Gear Report
All the latest music news from around the web

As the release of the Fender American Professional Series II seems imminent, we take a brief look at the Stratocaster, and how one Leo Fender changed the landscape of music, forever. The post The Stratocaster and the Genius of Leo Fender: A Short History appeared...
While Swayze's progressive lyricism and the gridlock grooves of his bandmates are a force to be reckoned with on stage, any fan of punk can tell you that capturing that energy on record is a different story altogether. It's all too easy for a band's spirit to shrink...
Based on the brand's classic OC-2 that was first introduced back in 1982, the OC-5 takes the blueprint of the original unit and up-skills it to suit the needs of the modern guitarist. In addition to featuring the monophonic mode of the original, the OC-5 makes use of...
Mildlife - Automatic  With their irresistible blend of groovy jazz-funk, spacey disco and psychedelia, Mildlife have emerged as one of the country's premier festival acts, with their 2018 debut Phase proving to be the soundtrack to many a light night escapade upon...
After releasing their eponymous debut album only four months prior, Black Sabbath wanted to capitalise on their recent creative streak. Their first album had been slammed by critics as being too raw-some even stating that they were a rip off of Cream.   Rightfully...
Web series shows how Aussie music leaders dealt with COVID-19 A new three-part web series called Banding Together from the Australian Music Vault proves an interesting view, among other things, how 32 music leaders responded to the aptly ominous Friday 13 shutdown of...

You can get iZotope BreakTweaker Expanded at Plugin Boutique for EUR 9.66! In addition, you will receive the Trash 2 & UJAM Carbon Bundle! That's a discount of - drum roll - 95%! The post Deal: Get BreakTweaker Expanded + Trash 2 & Carbon for EUR 9.66! appeared first...

Boss has given its new OC-5 octave pedal some impressive specs, with enhanced, vintage-voiced monophonic modes, as well as modern day polyphonic octave modes. The post Boss announces new OC-5 octave pedal with upgraded mono and poly modes appeared first on gearnews.com.

The new Boss Pocket GT has Bluetooth music streaming, a USB audio interface and YouTube compatibility as well. This multi-effects and amp simulator appears to handle a lot of useful things in one neat package. The post Will Boss Pocket GT revolutionise how we learn...

Strymon's new pedal will be called NightSky, but has Eventide stolen Strymon's thunder with the Blackhole reverb pedal announced recently? And do we still need teaser-style campaigns in 2020, anyway? The post Strymon NightSky to be revealed today, but have we had...

Plug-in stronghold Soundtoys is temporarily reducing the price of its all-encompassing virtual tool box Effects Rack by almost 70 percent! Check 'em out here. The post Deal: Soundtoys Effects Rack in a flash sale for only EUR 89! appeared first on gearnews.com.
Thanks to our mates at Audio-Technica Australia, we've got one of these fancy little things to give off to one of our readers this month.    To enter, all you need to do is follow our Instagram (@mixdownmagazine), and sign up to our mailing list via the form below,...
Introduce us to Vintage Electric - how long have you been dealing with vintage electric guitars?  Vintage Electric is an online retail shop selling guitars, basses and amps sourced from Gibson and Fender collectors in Australia and abroad.   There are around 9-10...
Introduced by Roland in 1983 as a successor to their then-malgined (yet similarly pivotal) TR-808 drum machine, the TR-909 proved to be even more of a commercial failure than its predecessor. At the time, musicians wanted drum machines to sound like real drums - the...
Co-written and produced with Slum Sociable's Ed Quinn, 'The Lucky Ones' is a gleaming showcase of Park's artistic potential. Driven by an addictively groovy backbeat and a soaring, melancholic chorus, 'The Lucky Ones' sees Park embrace a much more mature sonic...

Made in the mid 90's, the Rocksonics MB-3X is an analog mastering-grade compressor/limiter designed for musical compression - will this new plug-in recreate the magic? The post Welcome back the Rocksonics MB-3X mastering compressor – as a plug-in! appeared first on...

Artistry Audio has put together a loop-based instrument featuring a wad of modern content with an emphasis on sound design and cinematic soundscapes. Origin X looks rather nice. The post Origin X: Snazzy Modern Loop Engine for Kontakt from Artistry Audio appeared...

Teenage Engineering told us they have a new magical device that they'll tease us about until the end of September. But a leaked report tells us it's a Bluetooth Speaker called the OB-4. The post Leak: Teenage Engineering is building a BlueTooth Speaker appeared first...

Is Native Instruments about to release a standalone groove box? A leak from VintageKing reveals what could be a self-contained version of Maschine that they are calling Maschine+. This could be good. The post Leak: Native Instruments standalone Maschine+ groove box...

The new Walrus Audio Julianna V2 Deluxe Chorus/Vibrato is a bigger sister to its Julia pedal, with more features and a handy extra footswitch for added versatility. And it sounds every bit as good! The post Walrus Audio Julianna V2 Deluxe Chorus/Vibrato: Smooth tones...

IK Multimedia has cooked up some 'Krazy Deals' for Labor Day. Now is your chance to save up to 75% on some of the company's mixing, mastering, and guitar amp plug-ins! The post Labor Day Deals: Get up to 75% off IK Multimedia plug-ins! appeared first on gearnews.com.

Harley Benton debuts the G212A-FR Active Cabinet, designed as a perfect companion for your digital virtual rig. Does it have the power and flexibility you need for gigging? We take a first look. The post Harley Benton G212A-FR Active Cabinet: A portable, affordable...
Although it'd be easy to assume the Julianna is a mere aesthetic rebrand for the Julia, it seems that Walrus Audio have pulled all the stops to make that anything but the case. All the classic analogue sounds and features of the original Julia have received a...
Since its introduction in 2006, the Audio-Technica AT2020 has resided right at the pointy end of this sector. With its sleek design, incredibly tantalising price-tag and studio-ready sound, the AT2020 has long been the go-to option for entry-level home recordist and...
Although it'd be easy to assume the Julianna V2 is a mere aesthetic rebrand for the Julia, it seems that Walrus Audio have pulled all the stops to make that anything but the case. All the classic analogue sounds and features of the original Julia have received a...
While some players tend to view guitar modifications with an eye of caution - probably due to the amount of beautiful vintage Les Pauls that were butchered by Floyd Rose tremolo cavities in the '80s - a modification can actually prove to be one of the best creative...

In 1960 Leo Fender released the successor to the Precision - the Jazz Bass was born! In 2020, Fender has released the 60th Anniversary Road Worn Jazz Bass - it looks like a compelling instrument. The post Fender 60th Anniversary Road Worn Jazz Bass: Aged to...

If you podcast or live stream, then the new PortCaster by CEntrance could be for you! Full of clever and useful features, we take a look at this well-priced podcasting solution... The post CEntrance PortCaster Audio Interface: Broadcasting made easy? appeared first on...

With more than a passing resemblance to a games console cartridge the NES Poly looks like a classic box of chiptune noise. Hours left on Kickstarter - grab one before they're gone! The post Relive those 8-bit game soundtracks with the NES Poly Chiptune Synthesizer...
In 1933, a gifted US engineer by the name of Laurens Hammond was tasked with designing an affordable organ for churches that didn't have the cash nor space for a pipe organ. The resulting invention relied on an electric motor that rotated a set of tonewheels at...
The exhibition, which kicked off at the National Portrait Gallery over the weekend and will run until February 2021, is set to trace the story of the biggest bands, venues and personalities of Australia's pub-rock heyday from its 1960s origins through to the start of...
Kevin Parker acquires Wave House studios Tame Impala's Kevin Parker can work on his studio tan – he's bought the Wave House recording studio in Yallingup, WA, for $2.75 million. Tame Impala famously recorded their 2010 album InnerSpeaker there, as well as parts of...
Now, less than 12 months after that album was released into the world, Boy & Bear have released At Golden Retriever: a collection of stripped-down, acoustic cuts primarily pulled from Suck On Light and finished up with a number of fan favourites. For fans, At Golden...

This week's best sample packs include a beautiful string quartet that you can conduct yourself, a free grand piano, the heaviest of 90s metal drums, and a well-rounded pack of heavy electronic loops. The post Best Sample Packs This Week: Classic quartet, free piano,...

This week's collection of free plug-ins brings you an experimental Max for Live device and two classics. Here's Spectral Attractors, Defiant WT and A1TriggerGate. The post Best free plug-ins this week: Spectral Attractors, Defiant WT and A1TriggerGate appeared first...

You're going to finally realise your dream and buy your dream polysynth, now you're standing in a showroom surrounded by magical music machines: How do you choose your first polyphonic synthesizer? The post How (not) to choose your first polysynth appeared first on...

Vintage pedal snobs: the truth is that there are distortion, fuzz, delay, chorus and flanger pedals that sound great going for around or under £60/$80! Here are 8 cheap pedals you need to try. The post 8 cheap pedals every guitarist needs to try appeared first on...

Grab yourself a bargain-priced Hagstrom Swede LTD Black Dark King whilst stocks last. This single cut guitar comes with great spec and a very appealing 'deal' price (while stocks last). The post Deal: 1/3 off Hagstrom Swede LTD Black Dark King, a rock axe with a dark...

The new Solar Guitars 6- and 7-string V.1 Canibalismo models are both equipped with EverTune bridges, and come in a very bright 'take-no-prisoners' finish. The post Solar Guitars announce new 6- and 7-string Canibalismo V.1 models appeared first on gearnews.com.

Harley Benton has just launched its new CLC-650SM-CE Grand Concert solid top acoustic guitars, with a Venetian cutaway and onboard Fishman pickup system. No laminates here - at under €500! The post Harley Benton launches CLC-650SM-CE Solid Wood Grand Concert acoustic...

YouTuber Burls Art has just made his most bizarre creation yet, a guitar body out of Himalayan salt. Definitely not your typical material of choice for a T-style instrument. The post An electric guitar made from Himalayan salt? appeared first on gearnews.com.

Pricing for Artist visas are set to skyrocket for foreign musicians looking to tour the USA. From October the 2nd, artist visas will rise by 50%. What does the USA have against foreign performers? The post USA to Hike Foreign Artist Visas by 50% – Another Nail in The...

Kush Audio says that its new Silika compressor plug-in sounds just as good as analog hardware. What does Silika have to offer, and can it live up to these claims? The post Kush Audio Silika: a digital compressor that sounds just as good as analog? appeared first on...

The new Harley Benton SolidBass series of bass amps and cabs has something for every eventuality, and are aimed at everyone from beginners to working musicians. The post Harley Benton launches new SolidBass bass amp and cab range appeared first on gearnews.com.
The ambitious COVID recovery scheme was announced by the NSW Government in June, with over 1000 gigs to be played in eight different regions of the state over the month of November and culminating with the ARIA Awards in Sydney at the end of the month.    Artists who...
First introduced to the Fender stable as a top-of-the-line offering in 1962, the Jaguar was always ahead of its time. With its quirky Jazzmaster-inspired offset body, shorter 24" scale and infamous pickup switching system, the guitar was considered by many to be too...
Kim Salmon & The Surrealists - Ranting From The Book Of Swamp A certified legend of Australia's musical underground, Kim Salmon has seen and done it all - he's had stints playing in Beasts Of Bourbon and The Scientists on top of recording his own solo material, and is...
To coincide with this holy day for dads, we've racked our brains to think of the 20 greatest dad rock songs of all time, just to help you get in the mood for some fatherly fun this Sunday. Rock on!   'Reelin' In The Years' - Steely Dan​ Musically, 'Reelin' In The...

Lightweight, compact, and priced at just EUR 95, will the new Sennheiser MKE 200 offer you a noticeable improvement over your standard camera mic? The post Sennheiser MKE 200: The best mic for content creators? appeared first on gearnews.com.
Stay-at-home deals Audio clean-up suite gets major update, with new modules for guitar noise removal, spectral recovery, and more.https://www.soundonsound.com/news/izotope-release-rx-8

Roland's Zenology, the software version of their ZEN-Core technology, hits the much-anticipated milestone which is the arrival of the legendary JUPITER-8 polyphonic synthesizer. The post Roland Zenology takes on the King of polysynths: JUPITER-8 appeared first on...

RX8 is here with useful new features for music producers and content creators, along with a host of usability and functionality improvements. The post iZotope RX 8: Interesting new features and a few improvements appeared first on gearnews.com.

Behringer wants to conquer the podcasting mic market with the new Bigfoot USB mic. The spec sheet seems very familiar, with three capsules and four polar patterns. Will it stomp on the competition? The post Behringer stomps into podcasting with the Bigfoot USB...
In contrast to many of the blues and hard rock groups that dominated Sydney's stages around this era, the Little Band Scene eschewed the notion of commercial success in favour of unadulterated artistic experimentation, fusing post-punk, electronic and noise rock with...
America, forever the spiritual and economic home of the guitar, was for the first time under legitimate siege, as a sea of Japanese knock-offs of beloved US classics began to flood the local market. The Lead series was Fender's attempt to regain some of this ground by...
The Brisbane-based conference has announced that this year's event will focus on 'three pillars of community, survival and re-futuring', aiming to deliver a conference custom-built for the changes the music industry has faced in 2020.    In an effort to replace the...
1. UDO Audio Super 6 Binaural Synthesiser  Finally! If you've been following the development of this synth since it was announced midway through 2019, you'll know how big of a deal this is: the UDO Audio Super 6 is finally here. This analogue-hybrid beast, inspired by...
Stay-at-home deals Leapwing's latest processor promises precise control over sub-harmonic generation.https://www.soundonsound.com/news/leapwing-rootone-sub-enhancement-plug-unveiled

Looking for a bass preamp pedal? You can now grab the featured-packed Eden Amplification Module for a stunning price! Stocks are limited, so hurry up! The post Epic Deal on the Eden Amplification Module bass preamp pedal appeared first on gearnews.com.

The 1.2 firmware for the VCMC and CV Thing lets you convert multiple V/Oct notes into MIDI notes within a single gate and has a very cool Web Editor for easier configuration. The post Befaco VCMC 1.2 brings Poly Mode and Web Editor to their Voltage Controlled MIDI...

The Super 6 is probably the most eagerly awaited synthesizer of recent times and they have kept us dangling so long. Finally the 12-voice polyphonic binaural analogue-hybrid synthesizer is here! The post UDO Super 6 synthesizer is available at last! appeared first on...
By being billed as a Living Organism of Drive, Dynamics, and Tone, Instinct Synergy certainly delivers on all counts. The effect excels when used for dynamics processing, tone shaping, or adding gritty distortion. Indeed, it can be used in a sound design capacity by...

Aimed at up-and-coming players with local renown that have yet to become global superstars, PRS's new Pulse Artist program launches today. Apply now to be among the first wave of PRS Pulse Artists! The post Are you a PRS Pulse Artist? appeared first on gearnews.com.

Native Instruments has just announced the imminent release of Guitar Rig Pro 6 - and we may finally have an update worthy of what was once a force to be reckoned with in virtual amp sims. The post Hell has frozen over: NI Guitar Rig Pro 6 is coming! appeared first on...

DJ Swivel Spread is a multi-band stereo enhancer plug-in with some cool features. With 3 bands, a side filter and a tilt function, will Spread become your new weapon of choice for stereo tracks? The post DJ Swivel Spread: 3 bands of stereo widening and enhancing...
Stay-at-home deals German sampling experts NI have just announced a major update to their flagship software bundle Komplete, along with a new version of Guitar Rig Pro.https://www.soundonsound.com/news/native-instruments-update-flagship-software

Native Instruments has announced Komplete 13 bringing together everything that's appeared since version 12 plus a handful of previously unseen sources of sound and a brand new version of Guitar Rig. The post Komplete 13: New sounds, new guitar tones and absolutely...
Stay-at-home deals French virtual-guitar-amp experts Two Notes have released a new higher-impedance version of their acclaimed Captor X reactive load/speaker simulator.https://www.soundonsound.com/news/two-notes-release-16o-captor-x

Statement Lead starts with waveforms of rare, modern and legendary synths drops them through a step modulated filter, shapes, articulates and flows out through FX. Simple, clear and instantly usable. The post Softube Statement Lead: no nonsense polyphonic lead...

Here's a chance to save big on McDSP plug-ins and bundles! All of the company's mixing and mastering plug-ins are now on sale at up to 77% off. The post Mega deal: Huge savings of up to 77% on McDSP plug-ins and bundles! appeared first on gearnews.com.
Stay-at-home deals New hardware drum trigger features 16GB onboard memory, a rechargeable battery, dual trigger pads and a laser sensor.https://www.soundonsound.com/news/dremtrigger-electronic-drum-sounds-made-easy
What You Gonna Do When The Grid Goes Down? will mark Public Enemy's 15th studio effort since forming in 1985, with Chuck D, Flavor Flav and DJ Lord reuniting with Def Jam Recordings for the first time in 20 years to release the project.    The 17 track album, set to...
As detailed in their recent mid-year report, the Discogs Marketplace experienced 29.7% increase in physical orders between January and June this year, netting a total of 4,228,270 extra units over the measured period.    Perhaps unsurprisingly, Discog's data...
According to Deadline, the docuseries is said to have started production, with production company Raw (Don't Fuck With Cats, Fear City: New York vs. The Mafia) and BBH Entertainment (the team behind last year's Depeche Mode doco Spirits In The Forest) working together...
Now, remember the other releases of that year and you will understand why this is such a statement to make. It was an incredibly well produced, written and performed album. And a MONSTER of a release clocking in at just over an hour and consisting of 14 tracks...

Newfangled Audio and Eventide are bringing in some new chaotic oscillator techniques in the form of Pendulate which drags sound out of the physics of swinging oscillations - and it's yours for free! The post Newfangled Audio Pendulate: Chaotic monosynth based on a...

Ivison Guitars' newest model, The Spitfire, takes inspiration from three famous vintage models, and is all hand-made in the UK using the finest tonewoods, electronics, and hardware. The post Could The Spitfire from Ivison Guitars be the best boutique singlecut of the...

"Trifecta" just means there are three prizes in this year's raffle: a Moog Source, a Moog Prodigy and a Moog Rogue. All in tip-top condition and could be yours for a $25 ticket. The post Three Vintage Moog Synthesizers up for grabs in the Bob Moog Foundation Trifecta...

Joranalogue modules are always packed with deep functionality and exciting possibilities. MORPH 4 is an array of dimensional modulation while FOLD 6 is simultaneous parallel wavefolding - nice. The post Joranalogue MORPH 4 and FOLD 6: Dimensional Modulation and...

Teenage Engineering has a huge product announcement to make on the 30th of September. They say they've been working on it for years and it's great for the outdoors. Is it the OP-2 or a hammock? The post Is Teenage Engineering about to release the OP-2? appeared first...
Named in honour of the company's founder, the Bob Moog Foundation helps carry his legacy as an innovator through to future generations by educating children and adults about electronics, how they inform music and the intersections between science and sound.   This...
To create a truly brilliant film score, it seems, is a task that few are equipped to do, and there's no shortage of sub-par soundtracks out there from popular artists who probably should've known better. However, a number of notable musicians have successfully managed...

Grab yourself a bargain priced Framus acoustic guitar in our latest deal, with two electro acoustic models and a neat classical guitar all at a fantastic knock down price. The post Sweet deal on quality Framus acoustics, including two Texans and a Barcelona appeared...

Driven by a proprietary algorithm, RootOne is a subharmonic generator, saturator, compressor and decay shaper with an easy to use interface. Will it lift your LF game? The post Can Leapwing Audio RootOne lift your LF game? appeared first on gearnews.com.
The NBA's 2019-2020 season looked set to be one of the most exciting yet. However, it was interrupted on March 11 by the COVID-19-induced sports shutdown, just before its Playoff series was to begin in April. Instead, the NBA reformatted its season, with teams playing...
For any artist to be so prolific during one of the most creatively neutering times in recent memory is quite a commendable feat -  for Washington, of course, it's just another day at the office.   "When lockdown happened I was like 'what the fuck am I going to do?',"...
Thanks to our good friends at CMC Music, we've got one of these amazing acoustic guitars - valued at $1995 and including a custom hardshell case - to give away to one lucky reader.    To win, first you'll need to find the answers to these two questions:   1. What year...
The role of the producer has always been one muddied by public perception, and in today's age of the bedroom producer, it's complicated even further. Is a producer the head honcho who sits behind the desk twiddling knobs and orchestrating performers like Brian...
The free plug-in developers are enjoying a well-deserved vacation. So we've gone through the archives and dug up three classic freeware plug-ins that everyone should know. Check them out here! The post Best free plug-ins this week: Fracture, Nova and FreqEcho appeared...

The best sample packs this week: sounds that will heal you, vocal pads that add a heavenly shimmer, a robust pack with a staggering list of world instruments, and a simple free 808 plug-in. Enjoy! The post Best Sample Packs This Week: Healing audio, vocal pads, world...

Do you think established brands still hold the monopoly on the industry that they used to? Or have modern production methods and techology made brand-consciousness redundant? The post Do guitar brands matter anymore? Or is brand-consciousness a thing of the past?...

Noice! Fender adds two new Limited Edition American Professional Stratocasters with a solid rosewood neck, in Fiesta Red or Desert Sand and loaded with some great Pure Vintage '65 pickups! The post Fender debuts Limited Edition American Professional Stratocaster with...
Stay-at-home deals Several employees at Universal Audio have lost their homes and all of their belongings in the California wildfires. Help them get back on their feet...https://www.soundonsound.com/news/fundraiser-launched-help-displaced-universal-audio-employees
Stay-at-home deals Grunge pioneer teams up with Native Instruments to produce hard-hitting drum instrument.https://www.soundonsound.com/news/ni-release-butch-vig-drums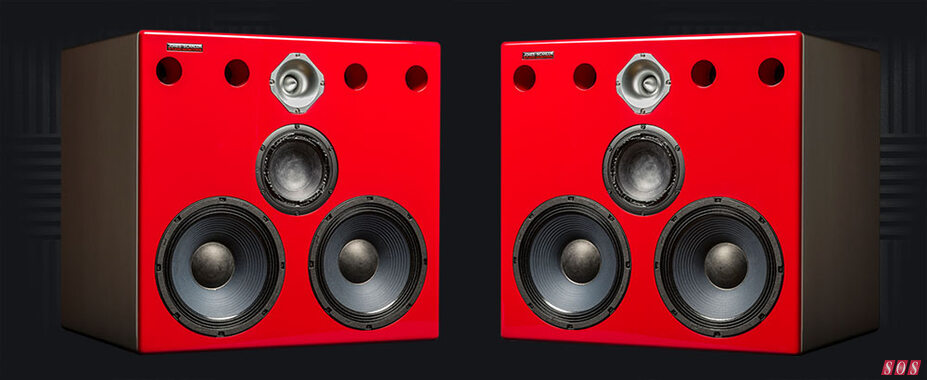 Stay-at-home deals Big Reds house twin 10-inch woofers and offer low-frequency extension down to 28Hz.https://www.soundonsound.com/news/jones-scanlon-add-main-monitors-red-series

Thomann hosted its very own virtual festival, "Music Never Stops", with 8 talented performers and bands from around the world performing on YouTube and each grabbing €1000 worth of gear. Enjoy! The post Thomann's "The Music Never Stops" Virtual Festival now streaming...

Live mixing consoles changed the way engineers and audiences experience live audio. These seven mixers changed the industry forever thanks to innovations by Yamaha, Soundcraft, Allen&Heath and others. The post 7 Live Mixing Consoles That Changed the Industry Forever...

This amazing Lego Sunburst Les Paul is a full-scale replica of the iconic instrument we all know and love, made completely from Lego and with all the details of the classic single cut. The post Lego Les Paul: A single cut guitar for Minecraft! appeared first on...
Artist: Cassian Album: Laps The first time I looked up who mixed Rüfüs du Sol's latest album Solace, I was surprised. I'd always figured it'd be a 'name' guy like Tom Elmhirst, not a relatively unknown Sydney producer named Cassian with a handful of credits to his...

Arturia is steadily expanding its portfolio of effect plug-ins. The new 3 Modulation FX bundle includes emulations of three timeless classics. The post Arturia 3 Modulation FX: three timeless classics with a modern twist appeared first on gearnews.com.

Looking to upgrade your studio or live recording rig? The MOTU UltraLite AVB audio interface is currently on sale at over 20% off! Getting into AVB audio networking has never been more affordable. The post Deal: Get over 20% off the MOTU UltraLite AVB audio interface...
Produced alongside Gab Strum of Japanese Wallpaper fame, 'Missed Calls' sees Sayar team up with fellow Melbourne indie stalwart Montgomery for a dazzling duet about forgotten flings and dicey endings. Underscored by a muted bed of synths and driven by an...
Today, Crooked Colours have followed up on LANGATA with brand new single 'Love Language', a crisply produced cut that serves as a reminder of just how good this group truly are. Driven by a rumbling groove and adorned with twinkling synth parpeggios, 'Love Language'...
Washington - Batflowers  Australian indie-pop mainstay Megan Washington has shared her latest release Batflowers, returning to the moniker Washington for her first full-length effort since 2014's There There. A sprawling release largely recorded over lockdown,...
Born in Wales, Owens initially worked as a nurse before becoming enamoured in the thriving indie scene of her neighbouring Manchester, resulting in her decision to move to London and pursue a career in music. After spending years working and interning with a number of...

Virsyn has just revealed their latest software synthesizer for iOS called AddStation. It's based on additive synthesis and combines thousands of sine waves with unique morph sequencing. The post Virsyn AddStation: Next Generation Additive Synthesis for iOS appeared...

The first four Behringer modules based on the ARP 2500 modular synthesizer are now available for preorder for unbelievable pricing considering this is Eurorack and these are 2500 modules. The post Behringer 2500 Eurorack modules now available at preorder for stunning...

The A-111-5 is a modular version of the Doepfer desktop Dark Energy synthesizer and it's back. It brings an entire monosynth into your Eurorack as a single semi-modular module. The post Doepfer reissue Dark Energy for Eurorack in the A-111-5 Mini Synthesizer Voice...

The new Kemper Profiler OS 7.5 gets a new Acoustic Simulator and some neat stereo widening effects. There's also a new Rig Manager 3.0 update to go along with it. The post Kemper Profiler OS 7.5, now with an Acoustic Simulator appeared first on gearnews.com.
1. Fender Tim Armstrong Anniversary Hellcat  This year marks the tenth anniversary of Fender and punk hero Tim Armstrong's partnership, and the two parties are celebrating things in a big way with the launch of a new commemorative acoustic model. The Tim Armstrong...
It's on this voyage across the grey, kangaroo carcass-dotted highway where band friendships are truly put to the test, and no band understands this quite like Melbourne's own Private Function. These rough and ready punks are true road warriors: a touring band who...
Get notified 
About all the latest Music and Audio gear news!