Gear Report
All the latest music news from around the web

The new AUDIO4c offers value for musicians and streamers with 4 analog inputs, MIDI, and macOS, Windows, Android, and iOS compatibility. The post iConnectivity AUDIO4c: multi-platform audio and MIDI interface for USD 399 appeared first on gearnews.com.

DSM & Humboldt puts its Simplifier amp and cab sim on heavy-duty steroids; the Simplifier DLX has more features, more I/O and some great sounds. The post DSM & Humboldt Simplifier DLX: An innovative "zero watt" amp with twin channels appeared first on gearnews.com.
Polyend team up with Pete Cannon The film documents the remarkable female composers who embraced machines and their liberating technologies to utterly transform how we produce and listen to music...

Shimmer Delay from Nembrini Audio is the kind of delay effect that turns a single note into an album's worth of ambient soundscapes. The post Nembrini Audio Shimmer Delay: an ambient machine for your DAW and iPad appeared first on gearnews.com.

Ola Englund has his hands on the new Boss Waza Craft HM-2W Heavy Metal prototype, but does it do that chainsaw tone ? The post Ola Englund has his hands on the new Boss HM-2W prototype: Swedish Chainsaw tone is here! appeared first on gearnews.com.

Sound Objects has collaborated with Modular Moon to create a Eurorack version of Sound Object #5 to add to their growing range of Sound Object synths. The post Sound Objects: Intriguing synth line from Russia and Modular Moon appeared first on gearnews.com.

If you were ever stuck wondering how Aphex Twin, Autechre and the like pull off those amorphic percussions, Tactic can get you started. The post Glitchmachines Tactic: Sampling and sequencing plug-in for proper IDM weirdness appeared first on gearnews.com.
Every instrument has its own technical tropes and in-jokes that players like to poke fun at. For instance, guitarists have flashy two-handed tapping and Floyd Rose dive-bombs to neg against; for drummers, it's double-kicks and gongs, and for horn players, there's no...
Willie Dixon once described the blues as being "the roots" of all American music. With a history that dates back centuries, it's certainly a statement with merit. Even so, it can sometimes be difficult to identify influences of the blues in modern music, particularly...

This weeks collection of free plug-ins includes a free pedalboard, a complex sound processor and a fun stereo tool. Here's Pedalboard, Brandulator 2.0 and Blumlein Haas. The post Best free plug-ins this week: Pedalboard, Brandulator 2.0 and Blumlein Haas appeared...

Does the Fender Mustang Micro - a €99 headphone amp - have the chops to impress experienced tone hounds? Jef Stone took it through its paces. The post First Look: Plug in and go with Fender's Mustang Micro headphone amplifier appeared first on gearnews.com.

If you fancy a free Boogie Triple Rectifier, you're in luck! For a limited time, IK Multimedia is giving way its AmpliTube 5 emulation absolutely free! The post Get the IK Multimedia AmpliTube MESA/Boogie Triple Rectifier Head for free! appeared first on gearnews.com.

Want to own a piece of Metallica history? Kirk Hammett's ESP 400 Series S-Type, as used on the band's famous One music video, is up for auction. The post The ESP used by Kirk Hammett in Metallica's One music video goes to auction appeared first on gearnews.com.

Epiphone's Jared James Nichols Gold Glory P90-loaded signature model is released into the wild, with attractive pricing considering the spec on offer. The post Epiphone Jared James Nichols Gold Glory shipping now, priced €699 appeared first on gearnews.com.

Polyend releases a big update for its Medusa hybrid synth with a bag of enhancements and an FM synth engine. An awesome update, given that it's free. The post Polyend Medusa V4.0: Introduces 6-voice 3-operator FM synth mode appeared first on gearnews.com.

FilterCult is a deep software emulation with lots of features on top of a meticulous Moog ladder filter model. Could this be your next go-to filter? The post Xhun Audio FilterCult: Moog ladder filter emulation with virtual rack modules appeared first on gearnews.com.

The new Fender Micro Mustang headphone amp has 12 amps and 12 effects onboard, plus EQ, Bluetooth and a rechargeable lithium ion battery. The post Fender muscles in on the nano amp market with the Mustang Micro appeared first on gearnews.com.

Looking for a more vintage tone? With gold foil pickups, the new Ernie Ball Music Man St. Vincent Goldie Signature 2021 could be a modern classic. The post Ernie Ball Music Man St Vincent Goldie Signature 2021 now with Gold Foil Pickups appeared first on gearnews.com.
I originally thought these were just custom paint jobs to liven up the serious look of the Polyend Tracker but actually, there's something quite cool going on. The post Polyend Tracker Artist Editions: more than limited edition funky paint jobs appeared first on...

The Dirtywave M8 Tracker is an exciting looking handheld music-making machine that's ready to go. Preorders are open now! The post Dirtywave M8: Handheld synthesizer, sampler and tracker open for preorders appeared first on gearnews.com.

Win a G212A-FR active guitar cabinet by Harley Benton worth €298! This 200W monster has oodles of clean power on tap, raffle ends Monday 12 April. The post Raffle: Win a Harley Benton G212A-FR cabinet worth €298! appeared first on gearnews.com.
Been out of the loop with everything that's been going on in the music industry recently? We don't blame you. Here's a wrap-up of all the biggest music industry news stories from the past few weeks. The big stories: Australian music festivals and venues are at risk...
It's probably fair to say that there's never been a rock band that's had more of an impact on music, fashion, and pop culture in the 21st century than that of The Strokes. Driven by the dual guitar powerhouse of Albert Hammond Jr. and Nick Valensi, the New York...
The entry level audio interface market is currently a densely populated place. Just when you thought there couldn't be any more choice, along comes SSL with the 2/2+, a USB powered, 24bit/192khz device at a competitive price. But how does it stack up against the rest?...
Since forming in 1946, Pearl Drums have grown to become one of the most renowned drum manufacturers on the planet – in a nutshell, they're essentially the Fender of the percussive world as we know it today. To celebrate their 75th anniversary this year, the brand are...
With less than a week until it kicks off around the country, CrewCare have announced a swathe of performers to play at Roady4Roadies, a special event celebrating the contributions of the unsung heroes of the live music industry: the humble stage crew. Summary...
Something I see come up amongst beginners a lot is confusion over whether they need a mixer or audio interface. It's an understandable point of confusion, particularly with lots of modern mixers now featuring USB connectivity, in turn providing similar functionality...
Ernie Ball Music Man have officially unveiled an updated version of St. Vincent's signature guitar in the lead-up to the release of her new album Daddy's Home next month. Never miss an update – sign up to our newsletter for all the latest news, reviews, features...

The 1176 becomes a bus compressor with matched components and switchable tube saturation - all in just 1U size! Check our High Voltage's VMC-76. The post High Voltage Audio VMC-76: the 1176 reimagined as a mix bus compressor appeared first on gearnews.com.

Emerging out of the darkness is the third version of the Erica Synths Black performance rig. Pulling in modules old and new to form a superb box of sounds and exploration. The post Erica Synths Black System III: Performing modular with the lights off appeared first on...

Edisyn is Open Source and free to download and offers software MIDI control over a large range of synths with dozens of templates and room to build your own. The post Edisyn: Synth Patch Editor covers over 60 synthesizers for free appeared first on gearnews.com.

Announced in January 2021 to great fanfare, were able to get our hands on the three new UAFX guitar pedals and take them through their paces! The post Review: UAFX Golden Reverberator, Starlight Echo Station and Astra Modulation Machine appeared first on gearnews.com.

This Sunday, join us for an easter egg hunt for new free plug-ins! We've got an awesome "limitless" compressor, a performance filter and a reverb from outer space. The post Best free plug-ins this week: PajSoil EiS, Bjorn and Galactic appeared first on gearnews.com.

D16 Group's spring sale is a great opportunity to save on the company's awesome effect plug-ins and software instruments. Get 40% off D16 Group plug-ins! The post Deal: 40% off D16 Group plug-ins and virtual instruments appeared first on gearnews.com.

A little bit too close to April Fools day Behringer has revealed a prototype of the Polyeight based on the Korg Polysix with a couple of extra voices. The post Polyeight: Behringer teases an enhanced Korg Polysix clone appeared first on gearnews.com.

The best FRFR cabinets for your digital rig! These boxes cover all price points, from budget-conscious to audiophile, and everything in between. The post Best FRFR Guitar Cabinets: Top 6 full-range cabs for your digital rig appeared first on gearnews.com.
Build your own Focusrite Forte! Update for 1010's popular Blackbox sampler lets you play iD Software's 1993 shooter, Doom.https://www.soundonsound.com/news/1010music-release-new-blackbox-firmware
Build your own Focusrite Forte! The new socks are hand-made in Berlin, and are said to provide effective absorption down to 80Hz.https://www.soundonsound.com/news/acoustic-socks-adam-audio

Win a bunch of gear and a €100 Thomann voucher with this fun competition - all you have to do is paint a few Easter eggs. What could be simpler? The post Win a Thomann Easter goodies pack including a flight case and €100 voucher! appeared first on gearnews.com.
Build your own Focusrite Forte! Brand-new monthly magazine SOS Workshop is aimed at DIY enthusiasts, and launches today with a project for making your own mixing console.https://www.soundonsound.com/news/build-your-own-focusrite-forte
With so many brands to keep up to date with, it can be easy to lose track of all the latest equipment launched into the gear-sphere each week. Today, we're taking a look at some of the best releases that might've flown under the radar recently, with this week's...
This year marks 60 years since the release of the Gibson SG, a guitar that many consider to be one of the most iconic solid-body guitars of all time. To mark this huge milestone, Gibson have announced a run of limited edition Custom Shop 60th Anniversary 1961 Les Paul...
Three years after the release of the previous generation of keyboards, Nord have reclaimed their spot on top of the electric keyboard pile with the launch of the Nord Piano 5: a sophisticated stage piano designed to dominate in live settings. Discover all the latest...
While Australia's live music sector shows no signs of recovering any time in the near future, a newly released report from ARIA has reported that the national recorded music market has experienced significant growth over 2020, marking the sixth year straight that the...

The DRM1 gets a new update continuing the tradition of its legendary grasp of analogue electronic drum and percussion sounds. The post Vermona DRM1 MKIV: the analog drum synth for the discerning electro-percussionist appeared first on gearnews.com.

Looking for a lightweight, simple, great-sounding portable PA system? Then this BOSE L1 deal could be a great money-saving offer for you! The post Mega Deal: Big savings on BOSE L1 portable line array PA system appeared first on gearnews.com.

The new Nord Piano 5 comes with twice the memory size for the piano and synth sections. They've also doubled up the sections for enhanced splits and layers. What else is new? The post Nord Piano 5: two sizes, two layers, twice the memory appeared first on gearnews.com.

iZotope's Spire is a unique hybrid system for recording anywhere. The second generation comes with better preamps, more memory, better battery life and other improvements. The post iZotope Spire Studio 2: the portable, hybrid recording system gets an upgrade appeared...
Build your own Focusrite Forte! Sphere Music host the 52nd VEMIA auction from Saturday April 3 to Saturday April 10 selling synths, keyboards, modular, effects and more.https://www.soundonsound.com/news/vintage-electric-musical-instrument-auction

The new Aurora Analog Flanger has enormous potential for tweaking - this is one of the beafiest analogue flanger pedals we've seen for a long time. The post Aurora Analog Flanger: A tweakable powerhouse of an analogue flanger pedal appeared first on gearnews.com.

Cyberfader turns the DJ fader into a channel strip plug-in with several effects that seem particularly handy for performance and automation. The post Cyberfader: A retro-style fader plug-in with channel strip benefits appeared first on gearnews.com.

Boom Library's Enrage is a beast of a modular multi-effects plug-in for music producers and sound designers - we took the animal out of its cage. The post First Look: Enrage is a beast of a multi-FX plug-in that needs some taming appeared first on gearnews.com.

Empirical Labs' compressor plug-in gets 2 new Opto modes, more ratios, second harmonic distortion, and other goodies in version 3. The post Arousor v3: Distressor plug-in gets 2 Opto modes, on sale at USD 70 off appeared first on gearnews.com.

Gibson's gorgeous new SGs are based on the 1961 "Les Paul" models - but these two red-blooded rock guitars are way too expensive to actually play. The post 60 years of the SG: Gibson ships 1961 "Les Paul" SG with sideways Vibrola appeared first on gearnews.com.
Build your own Focusrite Forte! New synth bundle includes everything you need to start exploring electronic sounds.https://www.soundonsound.com/news/moog-sound-studio-kit-unveiled

This premium made-in-USA Epiphone Casino is now available, but be prepared to pay $2.6k. Does the price tag match the specs? We take a closer look. The post The Epiphone made-in-USA Casino is now shipping – would you pay the up-charge? appeared first on gearnews.com.
It's been a hot minute since we've heard from Pond, but today, the Perth psych-rockers have returned in full force with their latest single 'Pink Lunettes', ushering in an exciting new era for the prolific group. A ballistic fusion of no-wave and mid-'90s rave, 'Pink...
For the second year in a row, Bluesfest Byron Bay has been forced to cancel its upcoming event due to COVID-19. The news of the cancellation comes after a case of COVID-19 was recorded in Byron Bay overnight stemming from recent outbreaks in Brisbane, with NSW Health...
Build your own Focusrite Forte! Mixing Pop Music features 24 videos providing 5 hours of learning material including exercises and practical guides for a wide range of recording artists, engineers,producers...
Is this real life? Is this fantasy? Either way, it looks like April Sun is going to be the biggest live music extravaganza to hit Victoria since the onset of the pandemic in 2020. Discover all the latest Tour News here. The news coincides with the today's confirmation...
Fender have today debuted two new signature instruments to celebrate the legacy of one of punk's all-time greatest figures: Joe Strummer of The Clash. Summary The Joe Strummer Campfire Acoustic and Master Built Esquire seek to honour one of the most celebrated British...
Legendary bass amplification manufacturers Ampeg have given players a first glimpse at their new Rocket Bass Series, offering five versatile combo amps to suit the live needs of all kinds of bassists. Never miss an update – check out all the latest Product News over...

Gibson honours blues musician James "Slim Harpo" Moore with new Slim Harpo "Lovell" ES-330 Artist Model in Vintage Sunset Burst. The post Gibson's new Slim Harpo "Lovell" ES-330 is a beautiful blues machine appeared first on gearnews.com.

Fender Custom Shop has recreated a limited run of The Clash frontman Joe Strummer's iconic sticker-covered Esquire, with only 70 being made. The post The new Fender Custom Shop Joe Strummer Esquire can be yours for just €15799! appeared first on gearnews.com.

Pioneer DJ has introduced the VM series active monitors. And they're not just for your home DJ setup: Pioneer DJ says that the VM-50, VM-70 and VM-80 are neutral enough for music production, as well. The post Pioneer DJ introduces the VM series active monitor speakers...

Choose from a Mother-32 and DFAM or Subharmonicon and DFAM as a cool synth studio package with a 2-tier stand, cables, artwork and a little mixer. The post Moog Sound Studio: magical all-in-one synth package appeared first on gearnews.com.
Mixing Pop Music Latest instrument in the Nord Piano range features a second piano sound engine, and double the user memory.https://www.soundonsound.com/news/clavia-announce-nord-piano-5

Origin Effects' carefully designed new RD Compact Hot Rod gives you some quality valve amp tones - but be prepared for a premium price tag. The post Origin Effects' RD Compact Hot Rod: Premium-priced boutique Plexi tones appeared first on gearnews.com.

Yes! Hungry Robot upgrades The Wardenclyffe lo-fi ambient modulator pedal to a new deluxe version with even more lo-fi goodness and tweakability. The post The Wardenclyffe Deluxe: A new dimension for Hungry Robot's lo-fi modulator pedal appeared first on gearnews.com.

Here's a fabulous device, a box of beats, a slab of rhythms and samples that you tap and play and enjoy and take with you that's both simple and complex designed by Koka. The post Pocket Beatbox: Coolest portable multisampler on the planet appeared first on...
Get help from the pros with MuSOS New tech troubleshooting service offers access to leading industry professionals.https://www.soundonsound.com/news/get-help-pros-musos

Fender flexes its muscles on the budget market with new Squier Affinity models sporting cool features and finishes for those on a smaller budget. The post Fender intros new Squier Affinity Telecaster Deluxe, Stratocaster HH and Jaguar Bass models appeared first on...
Sound effects and music can often make or break the quality of a movie, thanks to the innovation and originality of Foley artists and sound designers. They put together some wacky stuff to create some of the most memorable noises from our favourite movies. From Star...
Reel-to-reel tape is a really interesting topic in audio, and it's important to distinguish reel-to-reel from cassette tapes. We're nostalgic for the sound of reel-to-reel, and people have an electric excitement, even a snooty attitude when they say 'we recorded to...
Heads up, bass junkies: some of Melbourne's biggest Sound Systems are coming together for the biggest ever live gathering of Sound Clash culture the city has ever seen. Explore all the latest in touring news and live events over here. As part of the city's newly...
For years, the Squier Affinity range has provided many an eager instrumentalist with their first-ever electric guitar or bass experience, offering classic Fender looks and tones at a pricepoint that's all too affordable for the average shredder. Now, Fender have...
APRA AMCOS has today shared its shortlist of 2021 nominees for the coveted APRA Music Awards, showcasing the best-performing songs from Australian and New Zealand artists over the past twelve months. Don't miss out on all the latest Australian music industry news –...
Built on Acustica Audio's Acqua Engine convolution technology, Cream2 recreates a collection of iconic British analogue hardware manufactured between the late '50s and early '70s, across three separate 'module' plug-ins and a complete channel strip. Cream Pre offers a...

The new Ampeg Rocket Bass Series comprises of five new combo amps ranging from 30W to 500W, with something for everyone. The post Ampeg introduces new Rocket Bass Series combos appeared first on gearnews.com.

ODDSound MTS-ESP is a new system that lets you create and sync alternative tunings across your plug-ins and MIDI devices. A breakthrough in microtonal composition? The post ODDSound MTS-ESP Suite: Set your tuning free at last appeared first on gearnews.com.

Reverend's Greg Koch Gristlemaster 90 is based around a set of P90s and a Bigsby B50 vibrato, resulting in an enticing new take on the T-style guitar. The post Reverend Greg Koch Gristlemaster 90 with Bigsby appeared first on gearnews.com.

The Golden Master multi-band compressor and output module could keep your performances at the perfect level and the long awaiting Ground Control sequence is released today! The post Endorphin.es introduces Golden Master Finaliser module and releases Ground Control...

Tone Empire has released Reelight Pro. The plug-in brings emulations of six analog tape machines to your DAW. Have they reinvented the reel? The post Tone Empire Reelight Pro aims to reinvent the reel appeared first on gearnews.com.
After dipping their toes into the pedal pond back in 2019 with the Komorebi BBD Chorus/Flanger, Dreadbox have announced four colourful new effects pedals to join their rapidly-growing roster. Summary Dreadbox have solidified their stompbox range with five effects: the...
Finally, the news we've been waiting for: Australia's newest alternative festival Full Tilt has announced that it's locked in a Sydney show this July. Head here for more touring news. The inaugural festival is set to hit Sydney's Bella Vista Farm on Saturday July 31...

In this week's collection of free plug-ins, Low Wave Studios is back with a transient shaper, Owl O'Lantern releases a cuddly tremolo and Matthieu Brucher adapts the Metal Zone for bass. The post Best free plug-ins this week: SpikeQ, Puppy Snuggles and MTB appeared...

Cosmos Drifting Memory Station is a new looper from Soma Labs and you can hear it action here, and as part of the Keys & Frequencies event. The post Soma Labs Cosmos Drifting Memory Station Looper appeared first on gearnews.com.

The Holeyboard x Third Man Hardware Pedalboard is a collaboration between Jack White and Holeyboard, and is available exclusively from Third Man Records. The post Jack White has a new limited edition Holeyboard x Third Man Hardware Pedalboard appeared first on...

These fabulously colourful stompboxes are revealed as the intriguingly named Kinematic, Lethargy, Darkness and RainDrops. The post Dreadbox brings its new stompbox effects into focus appeared first on gearnews.com.

Today we take a look at the guitars and gear you need to sound like Robert Smith, the iconic frontman and guitarist of gloomy goth-pop icons The Cure. The post How to Sound Like: Robert Smith of The Cure appeared first on gearnews.com.
Learn to mix with Mike Senior Mixing legend Mike Senior has just announced a new online course, which combines video tutorials, audio examples, DAW projects and online coaching sessions.https://www.soundonsound.com/news/learn-mix-mike-senior

KHDK Electronics and Behemoth's Nergal have teamed up for the new, limited edition signature LCFR overdrive/boost pedal. The post Behemoth's Nergal gets a new signature KHDK Electronics LCFR overdrive/boost pedal appeared first on gearnews.com.

The deliciously warm Tube VCA / Timbral Gate from Synthetic Sound Labs is what happens when you blend Soviet-era tubes with modern analog technology. The post Synthetic Sound Labs overdrive Soviet tubes for the Tube VCA Model 2530 appeared first on gearnews.com.

Behringer has announced the BU100 USB boundary microphone. Designed for streaming, podcasting and conferencing, the BU100 can simply be placed on the table in front of you. The post Behringer BU100: USB boundary mic for chatting, streaming and podcasting appeared...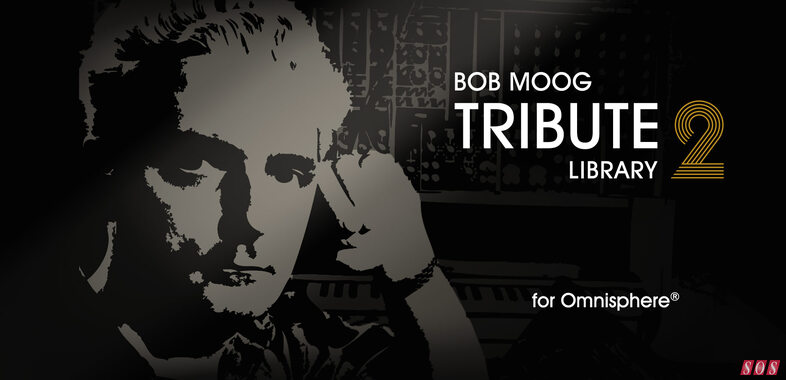 Learn to mix with Mike Senior Major update adds over 500 sounds created by legendary sound designer Eric Persing.https://www.soundonsound.com/news/spectrasonics-release-moog-tribute-library-2

The Damnation Audio Curmudgeon 2 is an all-analogue bass distortion that slams a solid-state power amp to give you massive distortion. The post The Damnation Audio Curmudgeon 2: a bass distortion that multiplies your signal by 1000! appeared first on gearnews.com.
Robert Irish is a true songwriter's songwriter. Taking inspiration from the likes of Roy Orbison and Father John Misty, the Australian-born, New York-based multi-instrumentalist specialises in smokey balladry with a bittersweet tinge, with his debut EP Me &...
Friday is here, which means it's release day for a bunch of artists at home and around the world. With so many hot releases out there to tuck into, we've compiled some of the best to present to you for the weekend. For this week's wrap-up, we're diving deep into the...
In retrospect, 2010 was a landmark year for the state of contemporary music. Keynote releases from Arcade Fire, The National, Gorillaz and LCD Soundsystem were indicative of indie's dominance in the early parts of the decade, while acclaimed albums from Kanye West,...

Focal has announced the Alpha Evo series studio monitors. The Alpha 50 Evo and Alpha 65 Evo feature new materials, more inputs and a refreshed design. The post Focal Alpha Evo series monitors: upgraded design and many new features appeared first on gearnews.com.
Spectrasonics release Moog Tribute Library 2 You can now play Abbey Road's 1905 Steinway, as used by the Beatles, in your DAW — for just £29.https://www.soundonsound.com/news/spitfire-originals-mrs-mills-piano

UJAM Finisher RETRO is packed with vintage effects chains, all controlled by just a handful of knobs. Get the classic sounds of the 60s, 70s, 80s and 90s in the blink of an eye. The post UJAM Finisher Retro: Vintage sound at the twist of a knob appeared first on...

Possibly the perfect film for all you stompbox addicts, Reverb's The Pedal Movie gets a new trailer and an official release date. The post The Pedal Movie: a new trailer and an official release date at last appeared first on gearnews.com.

It seems two new Squier Affinity Series Jazzmasters, finished in in Lake Placid Blue and Burgundy Mist, have started appearing on dealer sites. The post Leaked Squier Affinity Series Jazzmaster in Lake Placid Blue and Burgundy Mist appeared first on gearnews.com.
Spitfire Originals: Mrs Mills Piano New soundpack brand launches with five analogue-inspired sample collections.https://www.soundonsound.com/news/konturi-samples-released

BOSS has just announced a new rechargeable clip-on tuner. The TU-05 comes with four modes and has a super-bright colour display. The post The new BOSS TU-05 is the latest rechargeable clip-on tuner on the market appeared first on gearnews.com.

Two new modules from Weston Precision Audio; the B2 Kick Drum/Bass synthesizer and the AD110 analog drum module inspired by a certain Dr Rhythm. The post Weston Precision Audio gives us a Kick, Bass and DR-110 appeared first on gearnews.com.

Pantala Labs Vega is a probabilistic Eurorack Stochastic Sequencer spinning in a circle of illuminated possibilities. The post Vega: Stochastic Sequencing from outer space appeared first on gearnews.com.

Gleetchlab 2021 is like something out of a fever dream. Design for glitch-based live performance by Giorgio Sancristoforo this is a DAW of madness. The post Gleetchlab 2021: Digital Audio Glitch Station appeared first on gearnews.com.
TechWest is WA's peak network of performing arts and theatre technicians that culminates in a 2-day annual conference. CMI Music & Audio is one of the markets leading value-added distribution and marketing company of music technology, professional audio and musical...
In today's musical landscape, there's no tool quite as vital to your livelihood as a musician than that of a DAW. On a fundamental level, a DAW, or digital audio workstation, is a program that lets you record, arrange and edit audio tracks, as well as capture MIDI...
Get notified 
About all the latest Music and Audio gear news!