Gear Report
All the latest music news from around the web

Optimize your Windows 10 computer for music production - including power user tweaks Microsoft removed in the 2004 & 20H2 updates! The post Optimize Windows 10 for music production with these hidden power tweaks! appeared first on gearnews.com.
Friday has finally arrived, which means it's release day for a bunch of artists at home and around the world. With so many hot releases out there to tuck into, we've compiled some of the best to present to you for the weekend. To kick off this week, we're exploring...
Good Things Festival, Australia's favourite alternative music festival, has today revealed the dates and venues planned for next year's events. Good Things 2021 will go down in the first week of December 2021, with large outdoor events being planned over three days in...
Abbey Road Institute Australia has today announced that they'll be partnering with Studios 301, one of the most historic recording studios in the Southern Hemisphere, to deliver an unparalleled audio education experience for students in 2021. Studios 301, who play...
Few artists have experienced the career trajectory Tash Sultana has within the space of five years. From their early days busking in Melbourne through to spellbinding crowds in their thousands at festivals around the world, Sultana has risen to become one of the...

Looking for a new chorus/vibrato? The new Electro-Harmonix Eddy offers analogue bucket brigade chorus and vibrato effects with external expression control. The post Say hello to Eddy, a new analogue bucket brigade chorus/vibrato from Electro-Harmonix appeared first on...

Big update to the LFE module that brings additional LFOs and envelopes to Sequential synthesizers and more, now supports the new Prophets. The post Low Frequency Expander 2.0 now works with Rev 4 Prophets appeared first on gearnews.com.

Remember the Kastle pocket-sized patchable synth? Well, this is the Kastle Drum its unruly rhythm-based sibling for industrial glitchy grooves. The post Kastle Drum: mini patchable industrial glitch machine from Bastl Instruments appeared first on gearnews.com.

Wow! A new signature bass for Peter Hook of Joy Division and New Order fame - in signed premium and affordable €999 versions! Pre-orders are open now. The post Yamaha Peter Hook Signature BB bass: Pre-orders open on €999 version appeared first on gearnews.com.
This week, we're checking out a limited new Octatrack from Swedish juggernauts Elektron plus a new monitor range from Berlin titans HEDD, as well as new gear from PreSonus, Bad Cat and Mr. Black. 1. Elektron Octatrack MKII Anniversary Edition  Released to the public...
Ableton, a staple in the electronic music scene, builds upon past iterations to deliver its best product yet, with a clear focus on user interaction and improved sound quality for its native plugins. You'd have to be living under a rock to be in the music biz and not...
GekkoSound are a recently minted Melbourne boutique pedal company, specialising in all-analogue gear to spruce up your tones something special. To celebrate their launch, we're giving away one of their handmade G.Boost pedals – providing up to 26dB of ultra clean...
Guns N' Roses guitar hero Slash has once again partnered with Gibson to debut the 'Victoria' Les Paul Standard Goldtop, paying tribute to one of the top-hatted guitarist's most iconic riff machines. Packing a hefty mahogany body with a dark finish on the sides and...
Deemed to be one of the most significant events in the shaping of Australia's musical identity, Sunbury 1973 is set to receive a triple vinyl reissue this summer. Held across January 27, 28 and 29, Sunbury '73 was attended by an estimated 30,000 music fans, with an $8...

It looks like Satellite Amplifiers has had to relinquish its federal trademark over the Coronet electric guitar, following a legal battle with Gibson. The post Satellite Amplifiers gives up as Gibson takes back the Coronet name appeared first on gearnews.com.

Mr Black's new Analog Chorus/Vibrato Deluxe pedal looks like a great way fro you to get Bucket Brigade style modulation onto your pedalboard. The post Mr Black Analog Chorus/Vibrato Deluxe: the ultimate Hi-Fi BBD modulation pedal? appeared first on gearnews.com.

Orbit crushes bits, harmonizes oscillations, filters, envelopes and mixes with a vast array of knobs and functions it could be the ultimate sound design tool. The post Neuzeit Instruments Orbit: multi-function planetary sound design module appeared first on...

Flip is designed for easy music-making on the go and features 9 channels of sampling, sequencer and performance tools. The post Flip! It's a sampler app by Andrew Huang appeared first on gearnews.com.
It's hard to believe, but once again, the festive season has snuck right up on all of us, giving us the perfect chance to give back to our friends and family with a whole swag of fun gifts. If you're hunting for the perfect present to give to a musician these...
Acclaimed Aussie duo Holy Holy have returned with a brand new single and details of an East Coast tour, set to go down in January and February of next year. Inspired by an essay about pandemics penned by Arundhati Roy, 'Port Rd', sees Oscar Dawson and Tim Carrol team...
Following weeks of social media hype and mystery, Boss have revealed the latest entry into their esteemed Waza Craft pedal range: an unexpected, but incredibly welcome, recreation of the the Sola Sounds Tone Bender MKII. Deemed by many to be the fuzz box that started...
Melbourne Music Week will take on a different role and identity across its three-month lifespan in 2020/21, serving as an industry kickstart for a live music scene only just emerging from an extended hibernation. The festival, to be reconceived as Melbourne Music...

The wait is finally over. Gibson officially announces its Slash "Victoria" Les Paul Standard Goldtop. We all knew it existed, and now it is here at last. The post The Gibson Slash "Victoria" Les Paul Standard Goldtop is here at last appeared first on gearnews.com.

HEDD Audio has announced the MK2 Monitor Series, comprised of four MK2 studio monitors and two brand new subwoofers – the company's first. The post HEDD Audio unveils the MK2 Monitor Series and new subwoofers appeared first on gearnews.com.

The new Eris Sub8 subwoofer from PreSonus is designed to complement the Eris E3.5 and E4.5 multimedia monitors and extend their bass response. The post PreSonus Eris Sub8: Compact subwoofer for the Eris series media monitors appeared first on gearnews.com.

The ESP Pyrograph Series guitars have complex designs that are hand-made using fire! Made by artist Dumitru "Dino" Muradian, these guitars look amazing. The post ESP Pyrograph Series – Playing with fire appeared first on gearnews.com.

If you own Neumann monitors, here's a great way to improve the sound. The new MA 1 system automatically analyzes the room and calibrates the speakers. The post Neumann MA 1: Automatic room correction and acoustic calibration appeared first on gearnews.com.

Microtonal scale conversion and a hybrid sample and oscillator sound engine bring a powerfully modern world vibe to Solo. The post TAQS.IM Solo Synth: authentic world and Middle Eastern sounds appeared first on gearnews.com.

Offered in two attractive new colours and built in Japan, Ibanez' new Genesis Collection RG-565 models stay true to a classic shred formula. The post Ibanez RG565 Genesis Collection brings a new 'Made In Japan' shredder guitar appeared first on gearnews.com.

Boss unveils its latest Waza Craft pedal! The new Waza Craft TB-2W Tone Bender fuzz is a collaboration between Boss and Sola Sound, and it looks epic! The post New Boss Waza TB-2W Tone Bender revealed! – based on the Tone Bender MK II fuzz from the '60s appeared first...

Just arrived on Kickstarter is the Anyma Phi, a monophonic physical acoustic modelling synthesizer with an exciting array of controls and possibilities. The post Anyma Phi: Physical modelling synth in a compact hardware box appeared first on gearnews.com.

Bandcamp rolls out Bandcamp Live, a ticketed live streaming feature that could provide artists a badly needed income stream during Covid restrictions. The post Bandcamp Live: A desperately needed new revenue stream for musicians appeared first on gearnews.com.
QSC Australia kicked into 2020 with some very striking and eye-catching artist collaborations unlike anything that has seen before in the powered speaker world. With a number of these unique artist boxes now announced, we got some insight into how the 'More Than A...
The FIFA series is undoubtedly one of the most popular video game franchises of the last 25 years, with an estimated 280 million copies being sold to countless football fans all over the globe. Perhaps one of the franchise's most memorable features – alongside its...
As Australia begins to look forward to a summer full of live music events, Untitled Group has today unleashed the lineup for the second edition of Brisbane's Wildlands Festival, promising two days of back-to-back action from some of Australia's hottest musical talent....
Waves Audio, developer of professional audio signal processing technologies and audio plugins for mixing, music production, mastering, sound design, broadcast, post-production and live sound, is now shipping the CLA Epic plugin, designed with legendary GRAMMY...
A recently launched Australian music tech startup is aiming to provide an AI-driven music streaming service to aged care residents around the country to 'help ward off the effects of brain ageing' in elderly people. Muru Music Health, which was launched in September...
Firebrand Cold Chisel guitarist Ian Moss has announced a string of solo acoustic shows around the country next June as part of The One Guitar, One Night Only 2021 National Tour. Marking his first run of acoustic shows in five years, Mossy is set to trek across to...

With its new Double Drive pedal, Bad Cat aims to deliver its boutique, hand-wired amp tones in a package that's both light on your back and your wallet. The post The Bad Cat Double Drive – an updated and refined Siamese Drive appeared first on gearnews.com.

Waves CLA Epic brings Chris Lord-Alge's favorite delays and reverbs to your DAW, including a flexible routing system for unique combinations. The post Waves CLA Epic: Chris Lord-Alge's delays and reverbs in one plug-in appeared first on gearnews.com.

God's Box is home to some quirky Eurorack kits and the new Trouser Press will keep your creases sharp and your signals crossfading. The post The Trouser Press: Voltage controlled crossfading from God's Box appeared first on gearnews.com.
As any '90s kid will proudly sprout, there's nothing quite like the original soundtrack for the Tony Hawk's Pro Skater games of the late '90s and early 2000s. Trundling through the game's pixelated landscapes and nailing tricks to the tune of Rage Against The Machine,...
Fender Musical Instruments CEO Andy Mooney has predicted that 2020 will be a record breaking sales year for the iconic company, revealing the extent of their financial returns in a recent interview with Business Insider.  Discussing the impacts of COVID-19 upon the...
Coinciding with the recent release of The Smashing Pumpkin's new double LP CYR, Carstens Amplification have partnered with Billy Corgan for a new limited edition run of Grace guitar amplifier heads. Designed and hand-wired by Brian Carsten – otherwise known as...
To help welcome live music back into bars and pubs around the country, Coopers Brewery are teaming up with Live Nation for a run of Live, Loud and Local shows, seeing some of Australia's best bands play shows around the country this summer. Kicking off in January,...

The best sample packs this week: a Sample Science collection, space age sounds, vocal chants, Afro-Beat rhythmic elements and a great free piano! The post Best Sample Packs This Week: Sample Science collection, Afro elements, free piano appeared first on gearnews.com.

In this week's collection of the best free plug-ins: a synth hard electronic music, a vintage compressor and an indispensable mastering tool. The post Best free plug-ins this week: Warrior, Britpressor and dpMeter5 appeared first on gearnews.com.

Strymon was lent us their latest reverb unit, the NightSky "Time-warped Reverberator" with a step sequencer, for a test run. Here's our review. The post Strymon NightSky Review: Reinventing the Reverb? appeared first on gearnews.com.

The Sabbra Cadabra joins Catalinbread's limited edition Gallery Series, with a sweet new graphic. Time to bring out those Sabbath riffs! The post Catalinbread adds Limited Edition Sabbra Cadabra to Gallery Series: with a Black Friday price! appeared first on...

Dan Korneff is back with a channel strip for guitars, bass, keyboards and everything else. Check out the Korneff Audio Amplified Instruments Processor! The post The Korneff Audio Amplified Instrument Processor adds mojo to guitars and more appeared first on...

For this year's Black Friday, Walrus Audio has announced a limited release of ten of its popular effects pedals in a new Sante Fe Series colour scheme. The post Walrus Audio has a new Limited Edition Sante Fe Series for Black Friday appeared first on gearnews.com.

A hand-wired signature amp head for Smashing Pumpkins' Billy Corgan, with exquisite components and a clean, no-fuss layout: Grace is quite the tone monster. The post The Billy Corgan Grace amp head: A 100W tone monster by Carstens Amplification appeared first on...

The best Christmas gifts for guitarists, all the way from €14 to great value, quality gear that will rake you in some serious brownie points! The post Best Christmas Gifts for Guitarists: Top 10 Xmas Guitar Gear Crackers appeared first on gearnews.com.

The magic of that Korg multi-engine custom oscillator just gets better and better with the Node 4-operator FM for Prologue, Minilogue XD and NTS-1. The post Sine Vibes Node: 4-Operator FM for Korg logue synths appeared first on gearnews.com.

It's Part 2 of our Christmas Raffle: We're giving away a Novation AFX Station, a powerhouse of a bass synth with huge creative potential. Enter now! The post The Gearnews Holiday Raffle, Week 2: Win a Novation AFX Station worth €430! appeared first on gearnews.com.
The Smashing Pumpkins are back with their eleventh studio LP, Cyr – a 20-song double album that indicates the titanic ambition of band leader William Patrick Corgan hasn't dwindled with age. Cyr isn't even the most elaborate project that Corgan and co. have in the...
Friday has finally arrived, which means it's release day for a bunch of artists at home and around the world. With so many hot releases out there to tuck into, we've compiled some of the best to present to you for the weekend. This time around, we're diving into the...
If there's any singular stompbox that we can thank for instigating the down-tuned phenomenon of Swedish death metal, it's the humble HM-2 from Boss. The Boss HM-2 is a rather simple affair: like most Boss stompboxes, it's housed in a rather utilitarian, yet rugged,...
Twenty years ago, sonic architects Robbie Chater and Darren Seltmann released their debut album Since I Left You under the moniker The Avalanches. With intentions to release the album solely in their homeland of Australia, firmly believing it would be the record's...
Whether you like it or not, Christmas is looming right around the corner, which means we're all in for an influx of sweaty afternoons, awkward family functions, copious amounts of coldies and an absolute mess of wrapping paper to contend with on the big day. For music...

Dr Z and Carol-Ann Amps' exciting CAZ-45 head has fabulous all-tube tone, plenty of gain and a matching 2x12 cab: it's a one-stop high-gain tone shop! The post Dr Z and Carol-Ann Amps collaborate on the new CAZ-45 guitar amp head appeared first on gearnews.com.

KMA Machines' WURHM is an updated, and very limited-edition boutique version of the now classic Boss HM-2 pedal, famous for its Swedish Death Metal tone. The post Add Swedish Death Metal tones to your sound with the KMA Machines WURHM appeared first on gearnews.com.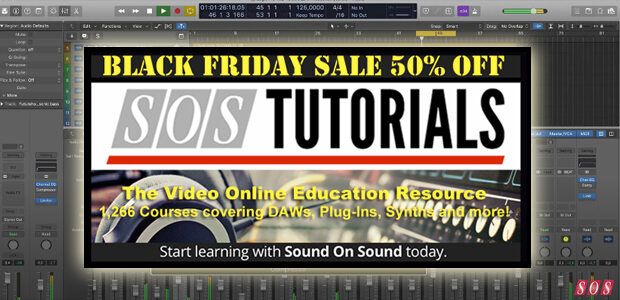 SOS Tutorials - Black Friday Deal For our fantastic Black Friday deal we're cutting the usual $25.00 USD per month price by 50%. Offer ends Tuesday 1st December 2020.https://www.soundonsound.com/news/sos-tutorials-black-friday-deal

2getheraudio has released OpZilla and it will destroy Tokyo with its FM synthesis, 4-operator algorithms and pitch envelopes. The post OPZILLA: it's a monster of an FM Synthesizer appeared first on gearnews.com.

The Realistic Concertmate MG-1 was hidden gem of a synth sold in Radio Shack in the 1980s. Cherry Audio has resurrected it as the Surrealistic MG-1 Plus and it's yours over Thanksgiving for free! The post Cherry Audio digs into the bargain bin and pulls out the...
Cliff Williams might be one of the most unheralded names in rock 'n roll. As the longtime bassist for AC/DC, he's been holding down the low-end with the legendary Aussie rockers for more than forty years, opting for the a vintage Music Man StingRay to lay down his...
This week, we're gleefully diving into the return of the Epiphone Casino and Riviera, as well as scoping out new pieces of kit from Sennheiser, M-Audio, Warwick and Victory. Let's go! 1. Epiphone Riviera + Casino  Just a week after they launched a whopping eight new...
Prism Sound has an established reputation as a developer of high-end audio equipment with flawless digital signal conversion.  The founders of the company Graham Boswell and Ian Dennis began working on digital audio technology for Rupert Neve in the early years of...
For the first time in the festival's history, the 2021 edition of Byron Bay Bluesfest will feature an exclusively Australian artist line-up. In an announcement yesterday, the festival confirmed that next year's event would go ahead without any international artists...
It's been a year unlike any other, but nonetheless, the ARIA Awards went down in Sydney last night, celebrating the achievements of Australian artists over the course of the year. The night's big winner came in the form of Kevin Parker, who won five of the seven...

Fender's Parallel Universe Vol II Troublemaker Tele Deluxe Bigsby has three Double Tap humbuckers and a special wiring that allows 8 pickup configurations! The post The new Fender Parallel Universe Vol II Troublemaker Tele Deluxe Bigsby finally makes its debut...

MIA Laboratories has released the 409 Opto Compressor plug-in. Based on physical modeling, it offers a comprehensive set of controls and features. The post MIA Laboratories releases the 409 Opto Compressor plug-in appeared first on gearnews.com.

The new Gibson Demo Shop is now open for business, but it is already causing quite a stir on guitar forums worldwide. The post Gibson Demo Shop: Prototype guitars, demo instruments and a mixed response appeared first on gearnews.com.

Never have to come up with your own patch again with this intelligent and generative soft-synth called BRAIN. The post BRAIN – Intelligent Synth: Infinite inspiration with a single click appeared first on gearnews.com.

ParipiDestroyer has no right to sound so awesome in its tiny credit-card-sized form - it's an ultra-tiny acid bass machine. The post Crazy Synth Kids ParipiDestroyer: mini synth huge sound appeared first on gearnews.com.
SOS Tutorials - Black Friday Deal Rode's new accessory pack aims to raise the bar for mobile phone audio and video capture.https://www.soundonsound.com/news/new-vlogger-kit-rode-0
The Boss HM-2 will be reissued as Waza Craft pedal, Boss supremo Yoshi Ikegami casually drops during a video chat on Facebook. Swedish Metal ahoy! The post Boss to reissue HM-2 as a Waza Craft pedal – but not just yet… appeared first on gearnews.com.

Matt Tytel has been releasing small feature videos of his forthcoming Vital wavetable synthesizer and it's looking pretty fabulous and should be getting near to release. The post Vital: stunning virtual Wavetable synthesizer from Matt Tytel appeared first on...
Mark Opitz is a name synonymous with classic Australian rock. In a career spanning decades, he's produced, mixed, and engineered numerous classic Australian rock albums for iconic acts such as The Angels, INXS, Divinyls and Cold Chisel.  Recently awarded the Order of...
It's been an amazing year for Fender's Parallel Universe range of fretted oddities, but surely the new Troublemaker Tele Deluxe Bigsby, out officially today, has got to take the cake as one of the most stunning instruments released in 2020. Pairing an ebony fretboard...
The nominees for the 63rd Grammy Awards have today been announced, celebrating the most significant artists and releases of the 2019 – 2020 period. This year's nominations are led by none other than Beyoncé, who netted nine nominations despite not releasing a...

HOFA's IQ-Series Reverb V2 is a massive hybrid reverb plug-in with a total of six convolution and algorithmic engines. Have they created the perfect software reverb? The post HOFA IQ-Series Reverb V2: The perfect hybrid reverb plug-in? appeared first on gearnews.com.

Epiphone explores its hollow-body heritage with new finishes for the Casino and a stylish Riviera model. Pre-orders are open now. The post Epiphone adds new Casino models and resurrects the Riviera appeared first on gearnews.com.

M-Audio has unveiled the Oxygen Pro and Oxygen Pro Mini. What's new in the latest generation of the long-running USB/MIDI keyboard controller series? The post M-Audio Oxygen Pro: The Oxygen keyboard controller is all grown-up now appeared first on gearnews.com.
New Vlogger Kit from Rode Bristol synth-makers Modal have released desktop module and extended-keyboard versions of their hotly anticipated Cobalt 8 instrument.https://www.soundonsound.com/news/modal-cobalt-8m-8x-unveiled

When news broke that Behringer has cloned Arturia's KeyStep, the internet had quite a bit to say about it. Now it's Arturia's turn. The post Arturia takes a swing at Behringer; Music Tribe responds appeared first on gearnews.com.

Eric Clapton's 1954 hardtail Fender Stratocaster, "Slowhand", used by the guitarist for slide, is up for auction. Bidding starts at a cool $1 million. The post Eric Clapton's 1954 "Slowhand" Fender Stratocaster up for auction – bidding starts at $1 million appeared...

Translation: They have a new Clock Divider/Multiplier an experimental 12-tap Delay and you can now get new firmware for the Desmodus Versio. The post Noise Engineering releases Fractio Solum, Imitor Versio and a customer portal appeared first on gearnews.com.

Lich is a DSP based Eurorack module that can run hundreds of community-made patches to become whatever you want it to be. The post Befaco Lich: Programmable multi-function Eurorack module with a Rebel heart appeared first on gearnews.com.
♫'Tis the season to spend money, And buy lots of crap, that we don't need♫ And there's no better time to do it! Crack out your wallets and dust off those security codes because Black Friday is nearly upon us. To save you the trouble, AT has amassed all the very best...
Fender have today continued their expansion into the world of effects with four new stompboxes, including wah and volume/expression units and a pair of pedals for bass and acoustic guitars. Taking design cues from the glory days of beige, the new Fender Tread-Light...
A 1954 Fender Stratocaster played by Eric Clapton throughout the 1970s and 1980s is set to go under the hammer later this month, with punters expecting it to go down as one of the most expensive guitars of all time. The guitar, nicknamed 'Slowhand' by Clapton and his...
Eventide Audio introduces the H9 Plug-in Series Bundle, bringing DAW users a powerful collection of iconic effects from the H9 Harmonizer Effects Processor. The H9 Harmonizer – a complete pedalboard in one stompbox – is relied on by artists ranging from St. Vincent to...
After spending much of 2020 under lockdown in Melbourne, Courtney Barnett has announced a global live-stream from the city's Royal Exhibition Building next month. Partnering with Driift, the team who staged Nick Cave's acclaimed Idiot Prayer concert earlier this year,...

Thomann's Cyber Week promotion means that you can save big on selected software titles. Stock up on plug-ins or upgrade your DAW for less! The post Thomann Cyber Week: The best deals on software and plug-ins appeared first on gearnews.com.

The Thomann Cyber ​​Week sale means deals, deals, deals! You have until November 30th to enjoy some great bargains on studio and podcasting gear... The post Thomann Cyber ​​Week: Top Deals on Studio and Podcast Gear appeared first on gearnews.com.

It's Cyber at Thomann Music Superstore and there are some bargains to be had in the Synthesizer department. Up to 28% off until the 30th of November. The post Thomann Cyber Week: Top 10 Synthesizer Deals appeared first on gearnews.com.

The Thomann Cyber Week Deals are on till 30 November, with lots of tasty deals on guitar gear by Fender, Gibson, PRS, EHX, tc electronic and more! The post Thomann Cyber Weeks: Great Deals on Guitar Gear with big savings! appeared first on gearnews.com.

More proposals from the Behringer think-tank include a $99 Theremin and the resurrection of the BCR2000 controller from their era of innovation. The post Behringer to clone their own BCR2000 MIDI controller and a Theremin appeared first on gearnews.com.

Guitar Center in trouble again. According to a recent New York Times article, the US mega instrument retailer missed an interest payment earlier this month, and may have to file for bankruptcy. The post Update: Is Guitar Center finally headed for bankruptcy? appeared...
 Many of us don't realise why they might be good for us but anyone that's studied will have usually practiced rudiments for some part of their learning. Yes, it's pretty clear that say, practicing a single stroke roll or a double stroke roll is necessary because...

Thomann is joining the November deals extravaganza with a week full of Cyber Deals - good until 30.11 at 23:59 CET! The post Thomann Cyber Deals are live: awesome offers on guitars, effects and studio equipment! appeared first on gearnews.com.
Boosts, however, are designed more acutely to push your amp into previously undistorted territory, allowing you to access much more refined sounds. Amplifier heads have a few gain stages and are made up of a preamp, usually with some gain controls and EQ, followed by...
Boss have revealed the latest entry into their Nextone amplifier series with the Nextone Special, a modern solid-state combo that seeks to deliver a boutique amp experience at a cost-effective budget. Packing a single 12″ Waza B12W speaker and two independent...
The Push, Victoria's leading youth music organisation, has announced a string of electronic music production workshops for young female and gender non-conforming people in the new year. Electronic Music Accelerator, which is being held in partnership with Ableton and...
Melbourne's own Maton Guitars have teamed up with Aussie acoustic virtuoso Joe Robinson for a new signature guitar, pairing a small-bodied shape with a cutaway design and bespoke appointments to appease finger-style players. Robinson, who initially sprung onto the...

Swing appears to be Behringer's version of the Arturia KeyStep but in black, with (very) slightly different knobs. Is this what musicians want? The post Behringer clones Arturia's KeyStep with Swing MIDI/CV controller and sequencer appeared first on gearnews.com.

Cool new new sample packs for you: millennial metal drums, heavy bass, Caribbean marimba and vibraphone vibes and female house vocals. Check 'em out. The post Best Sample Packs This Week: Metal drums, heavy bass, Caribbean marimbas appeared first on gearnews.com.

This week's roundup of the best free plug-ins features a 3D panner, a transient designer and a reissue of one of the most beloved free plug-ins of all time. The post Best free plug-ins this week: dearVR MICRO, Crack and Vinyl appeared first on gearnews.com.

We listen to podcasts passionately and some of us even have YouTube channels. We would love to help you make your own - and here's how! The post Video Podcasting and Vlogs for Musicians: How to Get Started! appeared first on gearnews.com.

Built like a tank, Victory's new V4 The Copper Preamp is all about classic late '50s British amp tones - time for some serious chime! The post Victory V4 The Copper Preamp, brings the VC35 into a pedal, with vintage British amp tones on tap appeared first on...
Get notified 
About all the latest Music and Audio gear news!