Gear Report
All the latest music news from around the web

Slate Digital is chopping USD 400 off the price for its Virtual Recording Studio, which includes a modeling mic, interface and a whole bunch of plug-ins. The post Save USD 400 on Slate Digital's Virtual Recording Studio bundle! appeared first on gearnews.com.
1. Akai MPK Mini Mk III Touted as the 'world's best selling USB MIDI keyboard controller', the 25-key MPK Mini has been given a third production run by Akai, ensuring it retains its popularity among emerging producers. the Mk III retains many of the key features of...
By some blow of fate - or more likely, the sheer quality of their products - Mastro Valvola have so far dominated in the field of the former. The Italian boutique manufacturers, whose pedals are abundant in looks, features and functionality, have recently captivated...

DeRoom Pro debuts a new reverb removal feature based on machine-learning, promising promised quick and natural-sounding result. The price is for pros, though! The post DeRoom Pro: A machine-learning room removal plug-in! appeared first on gearnews.com.

This new Gibson USA Lukas Nelson '56 Les Paul Junior model has classic looks and construction, with only a few minor modern updates added to the formula to make it even sweeter. The post Gibson USA Lukas Nelson '56 Les Paul Junior: Classic looks with minor modern...

AKAI updates the MPK mini USB keyboard controller to MK3, with a new keybed, endless rotary encoders, an OLED display and a software pack that includes the new MPC Beats DAW. Not bad for $99. The post AKAI MPK mini MK3 USB Keyboard controller: New keybed and more...
A wild reinterpretation of the '60s short-scale student classic, the Shawn Mendes Foundation Musicmaster stays true to the blueprint of the original model, all while adding in a bunch of special features to satisfy the Mendes hive mind.    Decked out with a custom...
When COVID struck earlier in the year and put countless musical careers on ice, Kieren and Will seized the opportunity to bunker down in Will's bedroom studio, blowing the dust off ideas originally intended for their forthcoming debut album to produce Cherry: a new...
The new Lukas Nelson Les Paul Junior stays relatively faithful to Nelson's own model, with Gibson adding a few minor tweaks in the form of new medium jumbo to make it a little more friendly for modern players.    With a classic slab mahogany body and baseball bat '50s...
One of our favourites from this talent pool, however, has got to be Pillow Queens. Armed with all the conviction, charisma and chemistry that should constitute a good group, the femme four-piece's brand of ragged indie rock has seen them accumulate airplay across the...

Fender debuts the amazing-looking Shawn Mendes Foundation Musicmaster, with stunning floral graphics that resonate well with this 60s-style, short-scale guitar design. The post Fender Shawn Mendes Foundation Musicmaster with amazing floral paint job appeared first on...

Eventide starts off each month with a new effect in its H9 series and has just added ShimmerVerb, a shimmer reverb algorithm borrowed from the H9. The post Eventide ShimmerVerb promises endless pitch-shifted reverbs appeared first on gearnews.com.

Thomann has a mega deal with huge savings on several different models of ukuleles. If you've ever thought about picking up the instrument, now is the perfect time! The post Check out this Thomann Ukulele-MEGA-DEAL on quality ukes from Kala appeared first on...

Streetwear brand Chemist Creations and Lava Music announce two new limited edition carbon-fibre acoustic guitars, with onboard effects and cutting-edge graphics! The post Lava Music teams up with Chemist Creations for limited edition carbon fibre acoustics appeared...

The new Nembrini Audio MRH810 V2 Lead Series Guitar Amplifier is based on a classic British amp from the '80s, and is currently available at a fantastic launch price. The post Nembrini Audio releases the new MRH810 V2 Lead Series Guitar Amplifier plugin for a bargain...
The all ages festival is set to go down on January 24 at the University of Wollongong's Uni Hall, and will be headlined by none other than hometown heroes Hockey Dad, who have just released their third full-length Brain Candy and nabbed Triple J's coveted feature...
Nobody knows this quite like Melbourne's own Alice Skye, who felt the full brunt of the pandemic back in March when SXSW - a long-standing stepping stone for Australian artists to introduce their music to US audiences - was cancelled. Alice was supposed to be making...
The Grand is a short-scale 30.5" bass that the company tout as their 'coolest short-scale we've built yet', and it's incredibly hard to disagree with their argument here. The bass features a nitro-finished poplar body with a deluxe roasted maple neck for a smooth...
Despite the name, the Green Rhino MkV is actually the smallest version of the pedal to date, with the compact enclosure and top-mounted inputs and outputs making it friendly with a range of pedalboards.    Way Huge have also added two new smaller knobs on the pedal to...
Although much of the country has seen some kind of return to normality in the past month or so, the same can't be said for many Melburnians, where an immense second wave of COVID-19 cases has resulted in a stage four lockdown - essentially shutting down the entire...

SpectraLayers 7 adds some pretty cool new AI-driven features and audio un-mixing functionality to Steinberg's spectral editing and repair suite, and is available now in Steinberg's web store. The post SpectraLayers 7: More AI, less clicks for Steinberg's spectral...

Way Huge's Green Rhino MkV is now in a smaller enclosure, yet it adds two new functions: Frequency and Curve controls. This thing may go straight onto out shopping list. The post Way Huge MkV Green Rhino overdrive pedal: Smaller package, more features appeared first...

The ultimate in mangled drum sounds, Damage 2 has arrived with nearly 60GB of oversized drums, ethnic percussion, found objects and elaborate effects! The post Heavyocity Damage 2: A massive sequel delivers even more bonkers percussion! appeared first on gearnews.com.

A leaker on Twitter says Apple may offer an ARM-driven MacBook priced at USD 799! That would become Apple's most affordable laptop ever. And a MacBook Pro 13 at USD 1099 would be a treat, too! The post Could the ARM MacBooks be Apple's most affordable laptops ever?...
Seeing as our live music scene has unfortunately been put on ice, we thought it would be worth taking the time to celebrate some of the quality studio work and artists that have helped define our renowned brand of indie music. So, without further ado, here are our 12...
Since the '70s, Mossy has been widely considered as a local hero among many of our country's finest shred-heads, with his nimble fretwork never failing to impress after decades of playing on the live circuit. With a penchant for staunch, bluesy guitar tones, Mossy's...

Cool new sample packs! 808s that can be easily modified, a traditional Chinese stringed instrument, everything you need to get your rave on, and a versatile virtual bass plug-in. Let's dive in! The post Best Sample Packs This Week: 808s, Chinese strings, rave sounds,...

This week's collection of the best free plug-ins features four free effects, an emulation of the Synsonics drum synth and a kick drum enhancer. Here's SuperflyDSP, Synsonics-V and Essentials Kick. The post Best free plug-ins this week: SuperflyDSP, Synsonics-V and...

Monitor speakers are a crucial part of any studio, from the bedroom to top-flight facilities. Here are the best 7 monitors for producers on a budget - all of these come in at under €500 per pair. The post The best studio monitors under EUR 500 per pair: Our top 7...

Ernie Ball Music Man has just unveiled five limited-run instruments as part of its July 2020 Ball Family Reserve. They include two guitars, a baritone, and two bass models. The post Ernie Ball Music Man announces July 2020 Ball Family Reserve guitars and basses...

While the Surface Book 3 pulses with premium power the Surface Go 2 can offer some surprisingly music-friendly stability at an affordable price point. Which one would make for an awesome DAW platform? The post Microsoft Surface for Music Production: Surface Book 3 or...

A new relief bill called the "Save our Stages" act has been proposed in the USA to provide financial help for independent live venues gripped in the COVID-19 pandemic - to the tune of $10 billion! The post "Save Our Stages Act" offers $10bn to support US independent...

The new Caparison Mattias Eklundh Apple Horn 8 signature guitar has insanely good specifications and hardware choices that make for an exciting yet outlandish instrument. The post Caparison Guitars' new 8-string behemoth: "The pinnacle of extreme guitar design"?...

How does Mars sound? To answer this question, the Perseverance rover that was just launched into space by NASA carries technology from DPA Microphones. The post How does Mars sound? NASA uses tech from DPA Microphones to find out. appeared first on gearnews.com.

Could Warm Audio's latest video be teasing a re-make of the legendary Foxx Tone Machine pedal? It would mark Warm Audio's first foray into the guitar product market... The post Warm Audio teases a new guitar product, and it sounds foxxy… appeared first on...

Parallel Aggressor does the old parallel processing trick justice with heavy-handed compression and saturation algorithms on top of some sweet options! The post Baby Audio Parallel Aggressor: Spank and Heat your audio! appeared first on gearnews.com.

Arturia continued its 20 Year Anniversary celebration with a sale, offering its software synths and effects at 50% off! Grab Pigments 2 now for €99 instead of €198! The post Deal: Grab Pigments 2 and other Arturia software at 50% off! appeared first on gearnews.com.

Behringer has posted a picture of some old circuit board with the announcement that they have started work on an "exciting synthesizer" - can you guess what it is? The post Behringer has started work on "one of the most exciting synthesizer projects" appeared first on...

The Aston Element microphone is now ready for pre-order. During the past three months, everyone was invited to help shape its sound in three rounds of blind testing and voting. The post Aston Microphones Element: the crowd-designed mic is now ready for pre-order...

Possibly the oddest and most intriguing CV generator I've come across is the Press Controller from Softwire Synthesis that uses a chunky "button" to convert pressure into control voltage. The post Softwire Synthesis Press Controller for expressing some CV into your...

Want to perform like deadmau5? The artist's customizable OSC/PILOT control surface is now available to everyone. Set up your own touch-screen performance controller! The post OSC/PILOT: deadmau5's performance controller is now available to everyone appeared first on...

Steinberg has released the VST 3.7 Software Developer Kit (SDK) with new features designed to facilitate VST3 plug-in development. It also includes support for Apple's ARM processors. The post Steinberg releases VST 3.7 SDK with many feature enhancements appeared...

For a limited time you can get 20% off this special run Mad Professor Amber Overdrive with the Midas Touch mod, introduced this year during lockdown. Grab one now while stocks last. The post Deal: Mad Professor Amber Overdrive with Midas Touch mod for 20% off appeared...

The TheoryBoard returns in a slightly different form called Thy333 and hits Kickstarter as a colourful MIDI controller, composition tool, chord generator and music instrument. The post TheoryBoard Thy333 – never play a wrong note again appeared first on gearnews.com.
What many don't know about Sinclaire, however, is that the band's resident keyboardist Jake is quite the boffin, studying electrical engineering and building some of the gear heard in the group's music by hand. Being the tech nerds we are, we were totally fascinated...
Fontaines D.C. - A Hero's Death Dublin post-punk sensations Fontaines D.C. have released their widely anticipated sophomore effort A Hero's Death, and boy what a doozy it is. Fusing Grian Chattan's gloomy gothic songwriting with brooding, sparse arrangements and a...
This run is comprised of two custom StingRay basses, as well as a wild Albert Lee model, a baritone Axis and a slick Silhouette. As per usual, there's only scant quantities of each model available, so if you're keen to get your mitts on one, get in touch with Ernie...

The Sequential Pro 3 is a delicious multi-filter mono synth that features 2 analog VCOs and a Wavetable oscillator and they've just opened up that third digital oscillator to user-created wavetables. The post Sequential Pro 3 synthesizer gets Wavetables created by you...

Blend will mix and control the amps, Tilt will function generate and envelope and Steps will burst with random looping stepped CV. Three solid new modules from After Later Audio. The post After Later Audio releases 3 new modules: Blend, Tilt and Steps appeared first...

Best sample packs this week! 3 vintage drum bundles, samples for Serum and Sylenth1, multi-sampled orchestral sounds and sci-fi sounds from the 70s and 80s for the TAL-U-No-LX Roland Juno emulation. The post Best Sample Packs This Week: Vintage drums, orchestral...

Milkman Sound posts a teaser on Instagram of a new version of The Amp in a head/tabletop format... and we know quite a few players who will now be waving wads of cash in Milkman's direction.... The post Milkman Sound teases amp head version of The Amp on Instagram...

iConnectivity says its new MIDI I/O is the world's first with laptop- and tablet-friendly USB-C port. A mobile MIDI solution for whatever digital device you have with you - an alluring prospect. The post iConnectivity mioXC: The world's first MIDI USB-C interface?...

Over the past three months, the Aston Element microphone went through three rounds of public blind listening tests. The results are in and the Element is now available for pre-ordering! The post Aston Microphones Element: the crowd-designed mic is now ready for...
CMFT, which we can only assume stands for Corey Mother Fucking Taylor, is set to drop through Roadrunner Records on Friday October 2.   Recorded at Hideout Studios in Las Vegas with producer Jay Ruston, the album is jam-packed with original material from across Corey...
Zach and his rhythmic counterpart Billy Fleming's first official incarnation of Hockey Dad was minted back in 2013, but the duo starting jamming together well and truly before that. Their unique blend of classic rock with modern garage rock has made them a force to be...
1. Manson Guitar Works Violin Bass After acquiring a majority stake in the company last year and revealing a new range of affordable MBM-1 signature models earlier in the year at NAMM, Muse frontman Matt Bellamy has debuted what looks to be the first bass model from...
Today, we're aiming to rectify that oversight by taking a deep dive into some of the most iconic Australian voices of all time. From hard rock icons to understated titans in their field, we're exploring some of the most gifted, versatile and unique vocalists to have...

Premium aesthetics, features and price tag: This limited edition PRS Experience 2020 Modern Eagle V has a set of TCI pickups and controls to squeeze out every available tone from the HSH pickups. The post PRS Experience 2020 Modern Eagle V: Premium looks, features...
Stay-at-home deals Transient Designer pioneers join established London-based distributors SCV.https://www.soundonsound.com/news/scv-distribution-take-spl

Spank and Heat - that's punch and warmth to the rest of us - are at the heart of BABY Audio's new take on parallel processing called Parallel Aggressor, a bespoke compressor and saturator unit. The post BABY Audio Parallel Aggressor saturator plug-in: Spank and Heat...
Stay-at-home deals Update to Avid's distribution service makes it easy to release Atmos tracks on Amazon Music and Tidal.https://www.soundonsound.com/news/avidplay-gets-dolby-atmos-compatibility

HoRNet MasterTool is a new mastering plug-in that "makes your tracks sound good with no effort". Has HoRNet found the magic formula for mastering, or are they promising the impossible? The post HoRNet MasterTool: a magic mastering formula for instant results? appeared...

Singular Audio has announced the f-48 large diaphragm FET condenser microphone. Does the hand-built mic deliver that classic U47 sound at an affordable price? The post Singular Audio f-48: an affordable, hand-built FET condenser microphone appeared first on...

Applying the method of Upward Maximizing in place of peak limiting, UrsaDSP Boost brings up the quiet parts rather than squashing the loud ones. An appealing new approach to maximizing audio? The post Can the UrsaDSP Boost loudness maximizer reveal hidden detail in a...

The Arturia KeyLab 88 MkII is a chunky beast of a controller with a fat weighted keyboard but it lacked something to stand on - until now! Here are some stylish wooden legs that are just the job. The post Wooden legs for my Arturia KeyLab 88 MkII MIDI Controller? Yes...
Stay-at-home deals The new Foreno range comprises a desktop and rackmount model, both designed for home, pro and broadcast studios.https://www.soundonsound.com/news/hayakumo-release-hardware-vu-meters
Maton: Australia's Guitar opened to the public last weekend, with 130 models being displayed at the Powerhouse Museum in Ultimo. It's the largest ever retrospective exhibit for the icon Australian brand, who first started making instruments back in 1946 out of a...
Limited to only 200 models, the 2020 Modern Eagle V features a maple 10 top and a mahogany back and neck, which is complemented with a 22 fret Honduran rosewood fretboard with 'Old School' bird inlays.    The 2020 Modern Eagle V is fitted with TCI humbuckers in the...
The 1942 Martin D-18 was Elvis' instrument of choice during the start of his career, with the King originally acquiring the guitar from O.K Houck's Piano Store in Memphis after trading in his small-bodied Martin 000-18 in 1954.    The auctioneers state that Elvis...
Five pickup positions provide ample tonal variation, and with a nimble and glassy fretboard that instantly lends itself to rapid sweep picking at fast tempos, the Pro Series Soloist SL3M is a guitar that's suited to a whole spectrum of tones and styles, be it...

A refreshing new approach to reverb? Due August 10, smart: reverb is a source-adaptive reverb plug-in that works by generating harmonics off the audio it processes. The post sonible wants to reinvent digital reverbs with smart: reverb appeared first on gearnews.com.

The first ARM-based Mac runs better than the current Macbook Pro 13 with Intel Core i5 according to new benchmarks - good news for musicians hoping for better performance on next-gen Macbooks. The post Will Apple's upcoming ARM Macbook Pros trump current Intel-based...

Acustica Audio has updated its George Massenburg gear-modeling Green suite to version 4, totaling 3 parametric EQs and a versatile limiter/compressor. The post Acustica Audio Green4 models George Massenburg EQs and compressor appeared first on gearnews.com.

Stunningly futuristic portable games machine with built-in Nanoloop sequencer and synthesizer for making music is opening for preorders on the 3rd August. The post Analogue Pocket: Nanoloop infused futuristic Game Boy opens preorders next week appeared first on...

The new Sitek Joss Allen Freya signature Overdrive/Booster combines low/mid-gain drive with 12 dB of clean gain and some versatile features to cover a lot of bases for the money. The post Sitek Joss Allen Freya signature Overdrive/Booster: Love and war in one pedal...

This boutique, all-analogue floor-mounted live vocal channel strip can kill feedback, remove noises and propel your SM58 mic sound into U47 territory. And at this eye-watering price, you'd hope so! The post The Gold Channel analogue live vocal channel: A U47 sound on...

The new Blackstar Live Logic controller integrates with your DAW and MIDI devices, allowing you to control them with your feet, and freeing up your hands to concentrate on playing. The post Blackstar's Live Logic integrates your guitar with a DAW and MIDI with ease...

Harley Benton and YouTuber Andy Ferris of The Guitar Geek channel teamed up for this new DC-Junior FAT LTD Ferris Blue model, a no-nonsense guitar in a sweet finish and ready to rock! The post DC-Junior FAT LTD Ferris Blue: A new version of Harley Benton's rock'n'roll...
Fittingly titled the UB-Xa, the copy is currently being worked on by an engineering team based in Manchester, who have been building the firmware and modulation matrix for the unit and tweaking the feature set ready for production.   Behringer's production update...
The iconic yellow and black speaker has been the de-facto monitor for an entire generation of bedroom beatmakers, DJs and synth obsessives who have come up, having learnt to mix exclusively on the very unique and very singular sounding speakers. They are simply a part...
Sunbury '72 The inaugural Sunbury Music Festival was a massive cultural awakening for many young Australians, and it's undeniable that the music festival was pivotal in the shaping of our own musical identity over the course of the next decade. This documentary,...
When they're not touring the world or bunkering down in the studio producing for some of music's biggest names, Beau and Casey Golden also make music with one another under the name This Week In The Universe: a futuristic project that combines the brother's mutual...

Thomann has a nice little deal on a Sennheiser XSW-D wireless setup for your pedalboard - if you're thinking of freeing up your live rig from some of that pesky cabling, this should be on your radar. The post Deal: Sennheiser XSW-D wireless pedalboard set at 35% off!...

The capsule is at the core of any condenser microphone's sound - if you're looking to expand your mic locker, this 101 on microphone capsules is the place to start in selecting your next mic. The post Condenser Microphone Capsules: Build Your Perfect Mic Locker!...
Jimi Hendrix - Band Of Gypsys (1970) Captured over two nights in New York, Band Of Gypsys sees Jimi accompanied by Billy Cox on bass and the dangerously soulful Buddy Miles on drums on vocals for the funkiest, rawest Hendrix performance ever recorded. While it's best...
Released to the media today, the Bluesfest commissioned report also found that as a result of the festival's cancellation, the community also lost 745 full time equivalent jobs, with the numbers of losses from the broader State of NSW bumping that figure up even...
A key figure in the second wave of the British blues scene in the '60s, Peter Green was a true maverick on the guitar, and a criminally underrated songwriter to boot. After first gaining recognition as the replacement for Eric Clapton in John Mayall's Bluesbreakers,...

This week's best sample packs: ambient, atmospheric sounds with a VHS tape flavour, expertly sampled ancient Chinese chime bells, fantastic-sounding trumpets and a versatile free drum sampler. The post Best Sample Packs This Week: Ambient atmospheres, Chinese bells,...

This week's collection of free plug-ins features the latest version of a very popular free reverb plug-in. We've also got a drum sampler and an EQ. Here's Dragonfly Reverb 3.2, Yumbu and Freq 2. The post Best free plug-ins this week: Dragonfly Reverb 3.2, Yumbu and...

The retro-style Heaven 16 sequencer is the latest in a line of intriguing analogue, handmade Eurorack from D&D Modules that you might not have come across before. The post D&D Modules Elvis Filter, Lord of the Wah and upcoming Heaven 16 sequencer appeared first on...

RATCHETEER is able to generate MIDI patterns all by itself, providing new MIDI loops for your projects in control by MIDI keyboards and automation. Neat! The post midierror RATCHETEER: semi-automatic MIDI pattern generator for Ableton Live appeared first on...

Commemorating 20 successful years in the music tech industry, Arturia has released the Sound Explorers Collection - 250GB of instruments, effects and sounds! The post Arturia celebrates 20-year anniversary with Sound Explorers Collection appeared first on gearnews.com.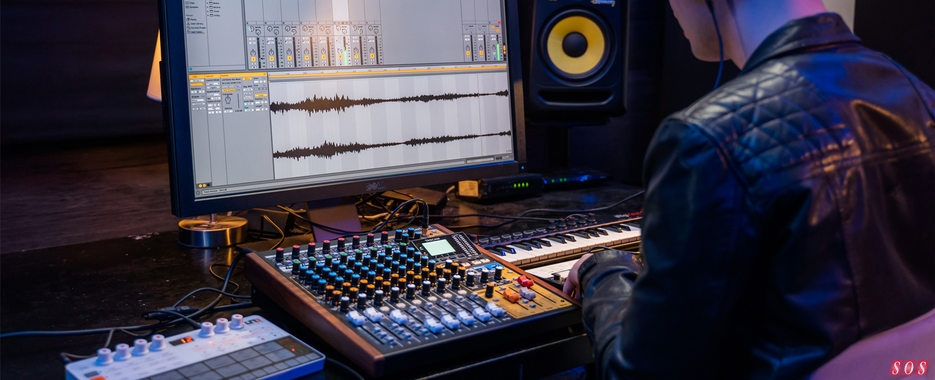 Zoom V3 announced VAMP feature aimed at jam sessions, rehearsals, recording and more.https://www.soundonsound.com/news/tascam-add-audio-looping-model-12-mixer

Just, wow. Poly Effects' Beebo pedal puts a host of modular FX and synths from popular Eurorack modules neatly onto your pedalboard, with loads of tweakable settings and a 5" touchscreen. Oh yes. The post Poly Effects Beebo put Eurorack modules on your pedalboard!...

Seems obvious but up until now user-made Blocks couldn't use the front patching "racks" concept that was introduced in version 6.3 - but with 6.4 now they can! The post Reaktor Blocks 6.4 update: You can now patch User Blocks into racks appeared first on gearnews.com.

The Guqin is often known as "the instrument of the sages" and here Sound Magic has based their modelling on a design dating from the Tang Dynasty 1200 years ago. It sounds magnificent.  The post Guqin: Magical Chinese 7-string traditional instrument captured in the...

Revealed at NAMM but now shipping is the Qu-Bit Surface multi-timbral physical modelling Eurorack voice for plucks, strikes, bangs, chokes and spatialized stereo. The post Qu-Bit Surface: Physical modelling in an 8-voice multi-timbral Eurorack module appeared first on...

2020 has been a good year for reverb plug-ins so far with many interesting new releases. Here's our list of the best new reverb plug-ins that came out in the last few months. The post The best reverb plug-ins (of this year so far) appeared first on gearnews.com.
The platform has also announced that since the launch of the initiative, fans have spent over US $20m (AUD $28m) on Bandcamp Fridays, putting money directly into the pockets of the artists themselves. Bandcamp also claim that they've also seen a huge spike in sales...
In fact, throughout the '70s and '80s, Japan was responsible for some of the best-made guitars ever produced. Were they original? Hell no, they were blatant copies. But this didn't stop top musos from buying them, and today we're going to show you six of the best...
PJ Harvey - Dry - Demos Released in 1992, PJ Harvey's Dry is considered by many to be one of the best debuts of the '90s, with her idiosyncratic vocal presence and distinctive songwriting winning huge praise among critics and fans alike. As part of a series of...
Ian Moss - Matchbook Sure, Jimmy Barnes may steal the limelight, but any educated student of the Australian rock canon will know that it's Mossy and Don Walker who form the heart and soul of Cold Chisel. On his 1989 solo debut, Ian Moss made sure the world knew just...

Play spy games with your fans and friends by encoding inaudible audio messages or other audio content into your audio files and having your people decypher them to play them back! The post Hide audio content in your audio files with DECODER / ENCODER apps! appeared...

Enter now to win a one-off Fender Player Series Telecaster, hand-painted by girl in red with all the proceeds of the raffle going to the Kaleidoscope Trust, a leading LGBTQ+ charity. The post Fender and girl in red team up for one-off "Rainbow" Player Series...

Polygon 2.0 is a complete overhaul of one of the most powerful hybrid samplers out there, with expanded modulation, granular sampling, dual oscillator, and more! The post Glitchmachines unleashes a hybrid synth/sampler beast with Polygon 2.0 appeared first on...

Mesanovic has introduced the SC1 small diaphragm condenser microphone. The company's first SDC features exchangeable capsules and is sold in matched stereo pairs. The post Mesanovic introduces the SC1 small diaphragm condenser microphone appeared first on gearnews.com.

Tritik Irid is a new reverb plug-in with three pitch shifters for shimmering soundscapes and rich harmonic ambiences. Will it give Valhalla Shimmer a run for its money? The post Tritik Irid serves up shimmering reverbs and colourful ambiences appeared first on...
1. Reverend Pete Anderson + Ron Asheton signature models  Reverend Guitars have unveiled two brand new signature guitars for country session stalwart Pete Anderson and the late Ron Asheton, best known for his formidable guitar work with The Stooges. Both models are...
Although ambient music has proved to fascinate musicians and listeners for decades now, it's undeniable that in today's age, it's more prevalent than ever. The rise of YouTube phenomenons like ASMR, tape loop drones and lo-fi beats to study/chill to has seen ambient...
With its thunderous riffs, piercing vocals, driving grooves and all too memorable licks, Back in Black has rock anthem after rock anthem engraved throughout. Although it follows the same formulaic method as their previous records, the album managed to revitalise rock...
Get notified 
About all the latest Music and Audio gear news!