Gear Report
All the latest music news from around the web

With 52 programs to choose from, A.O.M.'s newly released Nu Compressor is like many different compressors in one plug-in. But does that justify its premium price tag? The post A.O.M. Nu Compressor: 52 compressors in one $300 plug-in appeared first on gearnews.com.

As the release of the Fender American Professional Series II seems imminent, we take a brief look at the Stratocaster, and how one Leo Fender changed the landscape of music, forever. The post The Stratocaster and the Genius of Leo Fender: A Short History appeared...

Fifty years ago today, the world lost Jimi Hendrix. Looking to replicate some of those legendary tones? Here's some tips and a list of gear that will get you started. The post Jimi Hendrix guitar tones: Tips and gear to get you started appeared first on gearnews.com.

Error Instruments brings us a metallic nightmare that'll generate shifting digital soundscapes. Sound Scaper is available in Eurorack or desktop with unique features. The post Error Instruments Sound Scaper: Metallic digital sound torturer appeared first on...

Fender's American Professional II models have been leaked online! Looks like we'll be seeing new V-Mod II pickups, roasted pine bodies, a new heel joint, and a Dark Night finish option. The post Fender's new American Professional II series gets leaked online! appeared...
Jimi, who passed away half a century ago at the age of 27, was a hurricane. Cited by most as one of the best instrumentalists of his era and quite possibly of all time, few guitarists have managed to surpass the influence Jimi boasts: one which is arguably even...

You can never have enough VCAs and the Quad VCA has become a classic route to the control of CV and audio. Erica Synths updates the Black Quad VCA 2 to make it more versatile. The post Erica Synths Black Quad VCA 2: An update on a classic appeared first on gearnews.com.

The Strymon NightSky has now officially been launched, a reverb with analogue-synth like control and a step sequencer. It is everything we all hoped for and could be the perfect creative effect for your rig The post The Strymon NightSky has officially landed – and it...

The Strymon NightSky leaked! And yes, the blue pedal is a reverb, and you can see the leaked pictures of this new effect here. The post Strymon NightSky leaked and yes, it is a reverb pedal appeared first on gearnews.com.

Well, it's not pretty but who cares when it's an 8-voice polyphonic analogue synthesizer based upon the Prophet-600 in their favourite chunky little desktop box for potentially under $600. The post Behringer reveals the PRO-800: clone of Sequential Prophet-600 with no...

With a whopping 70 virtual 500-series modules taken straight from IK's various effects and insturment suites, MixBox is a Swiss Army knife of a channel strip. The post IK Multimedia MixBox: A virtual channel strip with 70 effects! appeared first on gearnews.com.
While Swayze's progressive lyricism and the gridlock grooves of his bandmates are a force to be reckoned with on stage, any fan of punk can tell you that capturing that energy on record is a different story altogether. It's all too easy for a band's spirit to shrink...
Based on the brand's classic OC-2 that was first introduced back in 1982, the OC-5 takes the blueprint of the original unit and up-skills it to suit the needs of the modern guitarist. In addition to featuring the monophonic mode of the original, the OC-5 makes use of...
Mildlife - Automatic  With their irresistible blend of groovy jazz-funk, spacey disco and psychedelia, Mildlife have emerged as one of the country's premier festival acts, with their 2018 debut Phase proving to be the soundtrack to many a light night escapade upon...
After releasing their eponymous debut album only four months prior, Black Sabbath wanted to capitalise on their recent creative streak. Their first album had been slammed by critics as being too raw-some even stating that they were a rip off of Cream.   Rightfully...
Web series shows how Aussie music leaders dealt with COVID-19 A new three-part web series called Banding Together from the Australian Music Vault proves an interesting view, among other things, how 32 music leaders responded to the aptly ominous Friday 13 shutdown of...

You can get iZotope BreakTweaker Expanded at Plugin Boutique for EUR 9.66! In addition, you will receive the Trash 2 & UJAM Carbon Bundle! That's a discount of - drum roll - 95%! The post Deal: Get BreakTweaker Expanded + Trash 2 & Carbon for EUR 9.66! appeared first...

Boss has given its new OC-5 octave pedal some impressive specs, with enhanced, vintage-voiced monophonic modes, as well as modern day polyphonic octave modes. The post Boss announces new OC-5 octave pedal with upgraded mono and poly modes appeared first on gearnews.com.

The new Boss Pocket GT has Bluetooth music streaming, a USB audio interface and YouTube compatibility as well. This multi-effects and amp simulator appears to handle a lot of useful things in one neat package. The post Will Boss Pocket GT revolutionise how we learn...

Strymon's new pedal will be called NightSky, but has Eventide stolen Strymon's thunder with the Blackhole reverb pedal announced recently? And do we still need teaser-style campaigns in 2020, anyway? The post Strymon NightSky to be revealed today, but have we had...

Plug-in stronghold Soundtoys is temporarily reducing the price of its all-encompassing virtual tool box Effects Rack by almost 70 percent! Check 'em out here. The post Deal: Soundtoys Effects Rack in a flash sale for only EUR 89! appeared first on gearnews.com.

This bright red Dunlop limited-edition Tom Morello Cry Baby Wah is emblazoned with two quotes by the guitarist and is based on his favourite Cry Baby GCB95 circuit. The post Dunlop releases limited-edition Tom Morello Cry Baby Wah appeared first on gearnews.com.

The new MXR FOD Drive lets you stack two distinctly different guitar amp circuits together, and then blend between them, allowing you to create your own unique overdrive tones. The post The MXR FOD Drive gives you two amp tones in one pedal appeared first on...

Soyuz Microphones has teamed up with Swedish engineers and Spanish designers to create the sharp-looking Tula Mic, an all-in-one portable USB mic and recorder for content creation, streaming and more. The post The Tula Mic: an all-in-one mobile recording solution from...
Locked in to go down on Saturday October 31 in Busselton, WA, Good Day Sunshine will be headlined by the likes of John Butler, Josh Pyke and Xavier Rudd, and will also feature sets from Vikki Thorn, Kyle Lionhart, Dulcie and Moon & Honey.   Logistically, Good Day...
The 1969 Competition Orange Mustang, which was part of the Julien's Auctions' mammoth Property From Bill Wyman and His Rolling Stones Archive event, was Wyman's weapon of choice with the Stones between 1969 and 1970.   Somehow, it's now the most expensive bass guitar...
Now, Golding look to assert their status as one of Australia's finest emerging acts with a stunning visual to match the dulcet tones of their breakout hit, 'Alone. Together.'. Featuring a head-snapping bass line and cushioned by a ridiculously smooth vocal performance...
1. Eventide Black Hole Reverb Despite being released back in 1994, the Eventide DSP4000 Ultra-Harmoniser is still regarded as one of the most revered rack units of all time, yet there's one algorithm that's a little more famous than the rest: the beautiful Blackhole...
Now, two years on and in a world that couldn't be further removed from the one that birthed Phase, Mildlife are gearing up to release their highly anticipated follow-up effort, Automatic: a densely textured, wonderfully cinematic record that's as heavy on the groove...

In the latest custom *Logue oscillator from Tim Shoebridge comes an attempt to recreate the sounds of the Korg DW-8000 hybrid polysynth. Compatible with the Korg NTs-1 Minilogue XD and Prologue. The post Tim Shoebridge's Digital Waveform brings DW-8000 sounds to Korg...
Stay-at-home deals The creators of the highly-regarded original PATCH & TWEAK book have teamed up with Moog Music to produce this 200-page book on Moog's Semi-Modular Analog Synthesizers.https://www.soundonsound.com/news/patch-tweak-moog

Lightning Boy Audio drops its TI Box Direct Input box aiming to give you a "thicker" sounding DI box with rich harmonics and high output. Is the TI Box worth getting excited about? The post Lightning Boy TI Box: A "thicker" sounding premium DI box appeared first on...

Slim bezels, USB C, Apple Pencil & keyboard covers compatibility, new A14 chipset, five colors - the iPad Air just got plenty of love! All that starting at USD 599 for 64GB + Wi-Fi. The post The iPad Air 2020 is more like the iPad Pro and starts at USD 599 appeared...

The new Eventide Blackhole Reverb pedal gives you a superb level of control over your reverb, whether it's tight spaces, or infinite expanses that trail off into the universe. The post Eventide pulls out all the stops with new Blackhole Reverb pedal appeared first on...
Arturia PolyBrute unveiled Click to read our in-depth, world exclusive review of Arturia's brand-new flagship polysynth.https://www.soundonsound.com/news/arturia-polybrute-unveiled

After the image of this impressive-looking new synthesizer leaked yesterday we now have all the details of Arturia's PolyBrute 6-voice, 2 oscillator analog flagship polysynth. The post Arturia PolyBrute Analog Matrix Synthesizer: Full details! appeared first on...

Kim Bjørn's Patch & Tweak can be found on the coffee table of every synth enthusiast and now with Moog Music he releases a special edition focusing on their unique range of semi-modular synthesizers. The post Patch & Tweak with Moog: Kim Bjørn collaborates with the...

M-Audio extends the range of their MIDI/USB Keystation controllers to a full 88 keys with the Keystation 88 Mk3 while keeping it lightweight and gigable. The post M-Audio Keystation 88 Mk3: The Keystation controller grows wider appeared first on gearnews.com.
Boasting a chambered ash body to provide a wonderfully resonant tone, the latest Kenny Wayne Stratocaster might be one of the most visually enticing signature model that Fender have launched this year. Pearloid block inlays adorn the guitar's rosewood fretboard, while...
Thanks to our friends at Syntec Australia, we've got three sets of monitors from the Fostex PM series to give away to three very lucky readers this month.    All you need to do is like and share this post on Facebook, then sign up to our mailing list using the form...
Continuing the company's bi-monthly tradition, the Ball Family Reserve September run is comprised of five spec'd out bespoke models, including two flashy Cutlass models, a Bongo bass, a JP6 and a very slick Mariposa.    First up, there's the two EBMM Cutlass models,...
After being leaked onto the web ahead of its release yesterday, Arturia have revealed all the details of their new polyphonic flagship today, and it truly is something to behold.    The 61 key PolyBrute offers six voices of polyphony drawn from two analogue VCOs, with...
Touted by the press as being the perfect crossover between Charli XCX and the Beastie Boys, the Australian trio - comprised of Beatrice Lewis, Claire Nakazawa and Mie Nakazawa - fuse rowdy rap crew sensibilities with pumping dance grooves, making for an irresistible...
The brand also produce a gamut of full size studio grade gear, and importantly, have a strong history of speaker production. Fostex has now launched a series of extremely well priced active studio monitors, including the diminutive but gutsy hyper-near-field PMO.3dH...
Arturia PolyBrute unveiled HK's affordable Polar series gains a new, larger model featuring a 12-inch subwoofer/base unit.https://www.soundonsound.com/news/hk-audio-launch-polar-12

CloudBounce is now a Windows and macOS app with batch processing functionality and a wider choice of export formats. The yearly subscription price has been slashed considerably, too. The post Web mastering service CloudBounce launches desktop app, slashes subscription...

A plug-in to get your mix in order "very easily"? Bring it on! GBSoundlab presents EasyMix, a new channel strip plug-in with controls to edit individual audio tracks, buses or entire mixes. The post GBSoundlab EasyMix: A new quick-fix analog modeled channel strip...

Compare over 300 mics's looks and sounds online, completely free! Such is the great premise of Audio Test Kitchen. Is this clever tool going to forever change how we buy microphones? The post Audio Test Kitchen 2.0: compare over 300 microphones online, for free!...

With its +/- 3 octaves of polyphonic pitch-shifting and multiple output routing options, is the Electro-Harmonix Pitch Fork+ Polyphonic Pitch Shift the new top dog pitch-shifter? The post The Electro-Harmonix Pitch Fork+ Polyphonic Pitch Shift is here at last appeared...

We felt something like this, something huge was going to drop from Arturia and we weren't wrong. The PolyBrute is Arturia's new flagship polysynth and it's a beauty. The post Leak! Arturia are about to release a PolyBrute! appeared first on gearnews.com.
Boasting two fully controllable pitch-shifting engines to create +/- 3 octaves of polyphonic pitch-shifting with a de-tune range of +/- 99 cents, it's possible that the Pitch Fork + is one of the most packed harmoniser units released in years. The unit features two...
The legendary guitarist noted the importance of events like BIGSOUND during times like these in a statement released today, saying "Join me at BIGSOUND to talk music, activism, and how the guitar can be a divining rod for truth and justice. The world is at a dangerous...
Coinciding with Melbourne International Games Week, High Score: Composition and Sound Art for Gaming will go down on Saturday October 3, with sound producers and games developers from all around the world being invited to join the single day virtual conference.   ...
Audio Test Kitchen features a collection of audio samples from some of the biggest and best microphone manufacturers in the business, with the app boasting over 300 microphones from 65 brands in their library. Each audio file has been recorded under strict conditions...
One area which has proved particularly productive for cutting-edge development is in the field of remote learning, with Melbourne's own Collarts emerging as a world leader in remote solutions for the audio education sector.   For the first installment of our 'Isolate...
Maintaining creativity amid all this doom and gloom - particularly in a sector that's been ravaged as hard as the entertainment industry has - is one hell of a challenge.   Now that the initial burst of inspiration you may have experienced during the first lockdown...
Stay-at-home deals ATK 2 promises faster loading times, more recordings, Spotify integration and more!https://www.soundonsound.com/news/audio-test-kitchen-launches-new-website

If you ever wanted to run your own DSP synthesizer and effects algorithms in Eurorack then the TBD is for you! It gives you the hardware interface for your programming skills. The post Instruments of Things TBD: Open source Eurorack DSP module for running your own...

So you want comprehensive digital tools to get the best out of your vocals? Overloud Gem Voice can get you some great sounds, but keeps the learning curve nice and flat. Check out our full review. The post Review: Overloud Gem Voice – great vocal sounds without the...

As lockdown hit, the future of the guitar industry looked bleak. But now it appears that manufacturers are struggling to meet demand. Has Covid turned around the fate of the electric guitar? The post Has COVID-19 saved the electric guitar? appeared first on...
From October 1, Facebook is introducing a range of new guidelines for those posting or sharing musical content across their primary platforms - including Instagram - and it looks like they've got independent DJs and musicians right in the crosshairs.    In a recent...
Released in 1995, Silverchair's amazing debut Frogstomp is now recognised as one of the most definitive grunge records of its era. With its hard-edged sound and angsty (yet all too relatable) lyricism, it was difficult to believe that such an album could be created by...

On September 17th, 2020, Strymon wants to introduce a new effects pedal and shows two teaser pictures. We can already guess something about it. Is the blue a clue for reverb? The post Strymon teasing a new pedal on Twitter: Space & Blue = Reverb? appeared first on...

Behringer says they are trying to fix the RD-8 MIDI sync which impacts the RD-9 firmware and so once one is ready the other will ship because "we simply don't compromise on quality". The post Behringer gives us an update on the RD-9 drum machine appeared first on...

This week's collection of the best free plug-ins has it all: a tonewheel organ emulation, a linear phase EQ and a vocal mixing plug-in. Here's The Seductress, QRange and Vocal King. The post Best free plug-ins this week: The Seductress, QRange and Vocal King appeared...

This Strat-style guitar has a body made from concrete, using a silicon mould and a basic guitar building kit. Can you guess how much it weighs? The post Concrete Guitar – Yes, a guitar made of concrete! appeared first on gearnews.com.

Here are 8 more great budget effects pedals that you should try before you die. They include tube overdrives, classic chorus effects, reverbs, tremolos, and more. All for around £60 each! The post 8 more cheap pedals every guitarist needs to try appeared first on...

Looking for a floor tuner but not sure which one to get? We've narrowed the choices down to these 5 options that we think would be a worthy addition to any rig. The post 5 floor tuners that cater to every budget appeared first on gearnews.com.

More great sample packs this week: a collection of nature and atmospheric sounds, a melodic drum that is simple to dial in, a surprising music box and a complete set of disco funk samples. The post Best Sample Packs This Week: Organic atmospheres, a unique music box,...

SynthBooth is a new online event for the modular synth community from the 16th - 18th Oct featuring manufacturers, panel discussions, seminars, live performance and a keynote from Suzanne Ciani. The post SynthBooth: Virtual Modular Expo with makers, movers, talkers...

Martyred's Jason Frankhouser and Exhorder's Marzi Montazeri are the latest to get their own Signature Artist models from Solar Guitars. Both models are well spec'd and make a bold statement. The post Solar Guitars adds two new signature models – the GC1.6 Killertone...

The new Catalinbread Epoch Boost recreates the fabled preamp of the Maestro Echoplex EP-3 in a smaller enclosure, with a few modern enhancements to bring it up to date. The post Catalinbread Epoch Boost: A modern take on an old tone secret appeared first on...

This limited edition run of the Fender Black Paisley Stratocaster is exclusive to the Japanese market, but the specifications are so good you may well want to hunt one down. The post Fender Japan announces limited edition Black Paisley Stratocaster, with a chunky neck...
Wish You Were Here is generally regarded as a concept album, and an innovative outlier of the highest order. It's hard to conceive of many bands that sought to focus on themes such as mental illness with the utmost sensitivity and respect, all the while enveloping...

Is the new Electro-Harmonix Pitch Fork + Polyphonic Pitch Shift pedal imminent? Leaked in January, it's now appearing on dealer sites in the US. Here's what we know so far. The post Electro-Harmonix Pitch Fork + Polyphonic Pitch Shift: More details emerge appeared...

The M8 is an open-source sequencer/tracker and synthesizer project by musician Timothy Lamb (AKA Trash80) is based on Mutable Instruments Braids and is shaping up beautifully as it nears release.  The post DirtyWave M8: Handheld synth and tracker project is looking...

Odin's wife, Frigg, was a paragon of beauty, love, fertility and fate and is apparently capable of +- 12 dB of gain in low and high bands of EQ. Bragi Modular release their first module. The post Bragi Modular Frigg: Parametric EQ kicks off new viking inspired modular...

Ritual Electronics unveils their first 1U module in a series of modules we saw prototypes of over Superbooth. Pointeuse will trigger, gate, mute and switch from a footswitch. The post Ritual Electronics Pointeuse: Trigger, Gate, Mute and Switch with your feet in a 1U...

The 1176 Limiting Amplifier is one of the most iconic compressor designs in history. Here's our list of the best hardware 1176 reissues, clones and alternatives. The post The best 1176 compressor reissues, clones and alternatives appeared first on gearnews.com.
Stay-at-home deals Fundamentals Of Recording & Music Production features 26 modules covering every aspect of music creation.https://www.soundonsound.com/news/new-online-course-alan-parsons
Stay-at-home deals New EDM Kontakt instrument combines sampling and synthesis techniques.https://www.soundonsound.com/news/sub51-release-partial-structures
In their mid-year report, which you can view here, the RIAA's figures show that vinyl accounted for 62% of all physical revenue in the US from January - June, making up $232 million of the period's total $367 million sum. This essentially marks the first time that the...
The Flaming Lips - American Head  Nearly 40 years since first forming, The Flaming Lips have shared their sixteenth studio record, American Head: a tender, sun-soaked effort that acts as the group's most endearing record in years. Perhaps growing more sentimental with...
Featuring a heavy duty MPU processor, the CDJ-3000 is made to run far smoother and faster than its predecessors, fitted with two chips to ensure track previewing, beat matching and track loading is faster and more effective. The internal audio processing has also been...
One area which has proved particularly productive for cutting-edge development is in the field of remote learning, with Melbourne's own Collarts emerging as a world leader in remote solutions for the audio education sector.   Through the implementation of advanced...
Initially achieving critical acclaim in 2005 as the producer behind Bloc Party's thrilling debut Silent Alarm, Epworth broke into a wholly unprecedented level of stardom when he co-wrote and produced Adele's smash hit 'Rolling In The Deep': an inescapable, yet...

Just when you thought Kurzweil was running out of ideas someone suggested removing an octave and we have the entirely new and almost the same PC4-7 and SP6-7.  The post Kurzweil innovates with 76-key versions of PC4 performance controller and SP6 piano appeared first...

Crossfades are boring? Not anymore! United Plugins and JMG Sound have released Transmutator, a crossfading plug-in that lets you get creative with 16 different fade modes. The post United Plugins Transmutator lets you get creative with crossfades appeared first on...

The standalone Maschine dream has finally come true with the announcement of Maschine+: NI's first standalone groovebox. Quite a follow-up to Komplete 13! The post Native Instruments standalone groovebox Maschine+ available for pre-order appeared first on gearnews.com.

Behringer revealed their RD-6 analog drum machine at NAMM with 8 sounds, individual outputs, 64 steps of sequencing and a big fat distortion. Pre-orders have just opened. The post Behringer's RD-6, a TR-606 clone, available now in a kaleidoscope of colours appeared...

Here's a sweet deal for 909 Day! The D16 Group Drumazon TR-909 software emulation is on sale at 70% off. But hurry up – this deal expires tomorrow! The post 909 Day: Get the D16 Group Drumazon TR-909 emulation for only 26 quid appeared first on gearnews.com.
We Will Always Love You will act as The Avalanches' third full-length record, with the Australian act famously taking a 16 year absence between their two prior albums Since I Left You and Wildflower.   While there's no solid release date as of yet, the group have...
The feature - which also humorously makes reference to the guitar as a 'boomer relic' - details the instrument's recent resurgence, arguing that 2020 might even go down as one of the most successful years for the guitar in a long time.    While noting that the...
1. Fractal Audio Axe-FX III Mk. II There was once a point in time where almost every other heavy act was using Axe-FX for their onstage signal processing. Nowadays, however, there's a whole multitude of amp and effect modelling systems on the market vying to replace...
On his latest solo project Black Room White Walls EP, Riebl once again confirms his status as one of the country's most iconoclastic and memorable voices. Marking somewhat of a departure from his previous solo works, Black Room White Walls sees Riebl take influence...
Stay-at-home deals The online seminar takes place on Friday 11th September and includes a start-studded cast of producers, musicians and engineers.https://www.soundonsound.com/news/music-expo-mix-master-line-confirmed

Renegade Soundplay has booted the classic computer and video game sounds of High Score onto Kickstarter in the hope that nostalgia and a love of chiptune will bring their project to life. The post High Score: chiptune-tastic retro video game sounds from the 1980s...

You tried a bit of free chaos with Pendulate but now embrace the animated unpredictability of 5 types of chaotic oscillator in the fully fleshed out Generate by Newfangled Audio and Eventide. The post Newfangled Audio Generate: Chaos unleashed in Buchla inspired...

Make way for the Queen of Pentacles a massive 7 voice drum module combining analogue and digital sound sources with Endorphin's inspired filtering and effects processing. The post Endorphin Queen of Pentacles complex hybrid drum module rocks 909 day appeared first on...
Stay-at-home deals Superior Drummer expansion inspired by classic tracks by Led Zeppelin, Jimi Hendrix Experience and the Rolling Stones.https://www.soundonsound.com/news/eddie-kramer-sdx-unveiled-toontrack

Waves Kaleidoscopes takes the classic modulation effects phaser, flanger, chorus and tremolo and lets you combine them in a variety of ways. It's a colorful swirl of dynamic modulation. The post Waves Kaleidoscopes: a multi-faceted suite of modulation effects appeared...

More keys and arpeggios, a display, polyphonic sequencing, an expanded Chord mode, MIDI controls and loads of tweaks: the KeyStep 37 packs a punch for modular and MIDI control. Here's our review! The post Review: Is the Arturia KeyStep 37 the perfect MIDI and Modular...

The standalone Maschine dream has finally come true with the announcement of Maschine+: NI's first standalone groovebox. Quite a follow-up to Komplete 13! The post Official: Native Instruments presents the standalone groovebox Maschine+ appeared first on gearnews.com.

Overloud debuts Voice, an all-in-one vocal mixing chain plug-in with a wide range of preamps, EQs, compressors and other essentials - all the tools you need for a perfect vocal sound. The post Overloud Voice: An all-in-one vocal mixing chain for your DAW appeared...
Stay-at-home deals Native Instruments' Maschine beat-production platform has gone standalone, with the launch of a new flagship hardware device that lets you create music sans computer.https://www.soundonsound.com/news/native-instruments-launch-maschine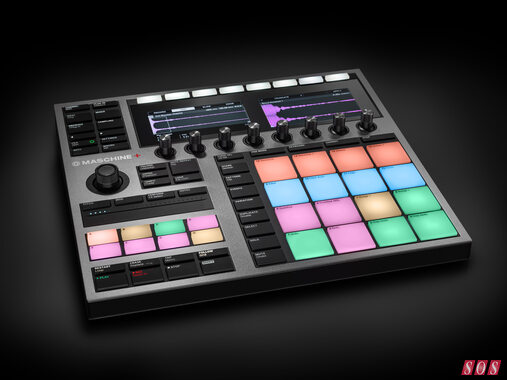 Stay-at-home deals Native Instruments' Maschine beat-production platform has gone standalone, with the launch of a new flagship hardware device that lets you create...

Fender jas just launched the Billie Eilish SIgnature Ukulele! But speculation is already rife that we could be seeing a signature Telecaster soon, too... The post Is Fender's Billie Eilish Signature Ukulele presaging a signature Telecaster? appeared first on...

Arturia has upgraded their KeyStep sequencer and controller to 37 keys and added a whole new Chord mode, new Arpeggiator patterns, display, MIDI controls and lights above the notes. The post Arturia KeyStep 37: More notes, more lights, chords and arpeggiator patterns...

The Cursible is nearing release and Sacrament Modular are beginning to post details on this intriguingly demonic morphing effects-send matrix. Let's check it out. The post The Cursible: 6 channel morphing effects matrix from hell by Sacrament Modular appeared first on...
Since first breaking into the mainstream with her 2015 SoundCloud hit 'Ocean Eyes', Eilish has been a staunch advocate for the ukulele, using the instrument as her primary songwriting tool and often playing it onstage during her live set.   This new Fender signature...
The Maschine+ acts as the first hardware release from Native Instruments in a long time, and to be honest, it's probably a little overdue: the company's once-mighty Maschine software/controller combination has fallen out of favour with beatmakers in recent years due...
Get notified 
About all the latest Music and Audio gear news!