Gear Report
All the latest music news from around the web

Here's an unbelievable deal: Until August 3, you can get the powerful AIR Music Technology Hybrid 2020 software synth for just £3.55. Yes, less than four quid! The post Deal: Get the AIR Music Technology Hybrid 2020 software synth for £3.55! appeared first on...
The new dates for Under The Southern Stars were announced in mid-March with the festival set to go ahead in February/March 2021. There have been ongoing concerns as to whether international touring will be allowed by then given the differing COVID-19 situations...
On the contrary, there's plenty of examples in The Beatles' discography that prove Ringo's ability to not only hold time, but throw in some pretty expressive fills and unique breaks as well. Starr's unorthodox approach to drumming might be the butt of many a great...
As incredulous as it may seem today, in 1980, Led Zeppelin were petrified at the prospect of becoming culturally irrelevant. The rising popularity of genres like punk and new wave were starting to render the rock 'n roll heroes of yesteryear obsolete, and it was...

Neural DSP takes its Archetype series in a refreshing new direction, modelling the clean, tight funk tones of Vulfpeck guitarist Cory Wong, including his favourite amps, cab IRs and effects. The post Neural DSP Archetype Cory Wong plug-in: Get your funk on! appeared...

Blackhole Cases has a special edition portable Eurorack case called THREE they are releasing in collaboration with Afrorack and you can win one by donating to Afrorack's educational program. The post Blackhole Cases THREE: 60HP portable Eurorack modular case designed...
With the release of their new single 'Fever Dreams', we caught up with the band to find out more about how they get by without a bass player, and all the tips and tricks they employ to make the most out of their humble axes.     1. Modify Your Guitar Matt: In case you...
The Aston team are now entering the third month of public voting for the sound of the Element's microphone capsule, revealing in a statement today that over 4000 customers have been involved in the project so far.    To coincide with today's announcement, Aston...
In addition to their local roster, which boasted the likes of The Avalanches, Bag Raiders, Wolfmother, Cut Copy, The Presets and Tame Impala at its commercial peak, Modular also represented international indie titans like The Yeah Yeah Yeahs, The Rapture and The...

Some awesome sample packs this week: more of SampleScience' Vaporwaves series, Clavinets run through guitar amps, a free chillstep pack and some of the best dubstep samples available. Bring it on! The post Best Sample Packs This Week: 80s cassette sounds, colorful...

Two unique synths and an 80s-style reverb – that sums up this week's collection of the best free plug-ins. Check out K1v, JP-ME-1 and Universe! The post Best free plug-ins this week: Nils K1v, JP-ME-1 and Universe appeared first on gearnews.com.

Ever wanted to experiment with different tubes, transformers and transistors in a compressor? Pawn Shop Comp 2.0 by Korneff Audio lets you do just that. The plug-in has just received a major update. The post Korneff Audio Pawn Shop Comp 2.0 lets you swap tubes,...

Summer is the time for "Krazy Deals"! IK Multimedia has slashed the prices on some of its products by over 70%. Grab Amplitube 4, T-RackS 5, SampleTank 4 SE and more for under 50 quid each! The post Deal: Save over 70% on IK Multimedia Amplitube, T-RackS, SampleTank...

Do you own monitor speakers or headphones by ADAM Audio? You could be eligible for free plug-ins and an extended five-year warranty! Check out the details here. The post ADAM Audio gives away free plug-ins, extends warranty to five years appeared first on gearnews.com.

It's unlikely that most of us will ever get to play a real Dumble. But here are eight pedals that could conceivably get you closer to that legendary sound. The post Best Dumble-style pedals: 8 drive effects to emulate THE boutique amp appeared first on gearnews.com.
Stay-at-home deals Last chance to help design Aston's newest microphone — voting ends on July 15th.https://www.soundonsound.com/news/aston-element-design-enters-final-phase

Controller pioneer Yann Seven has strapped two Sensel Morph controllers and overlays from the Joué Play controller to a piece of board to make an intriguingly awesome guitar style MPE controller. The post Two Sensel Morphs and a Joué come together as a Ystring MPE...
Stay-at-home deals The new H8 is the flagship of Zoom's SOS Award-winning H-series of portable audio recorders.https://www.soundonsound.com/news/zoom-h8-portable-recorder-unveiled
Supporting music industry workers who have lost their livelihoods due to COVID-19, the Hamstead Ascent boost pedal is built by techs working with A-list music acts. The post Hamstead Ascent boost pedal by techs working with Queen, AC/DC and Iggy Pop appeared first on...

The new Harley Benton ST-Travel Candy Apple Red cuts away body wood - and price - to offer you a neat and compact little travel companion for your holiday. The post Harley Benton ST-Travel: The perfect travel companion? appeared first on gearnews.com.

Amped Studio's latest technological breakthrough is hosting third-party plug-ins inside the browser-based DAW! Is this the future of online music collaboration? The post Amped Studio: browser-based DAW now hosts third-party VST plug-ins! appeared first on gearnews.com.

While the buzz around upcoming ARM-powered Macs is overwhelming the tech sphere, Apple is quietly working on a monster Intel iMac refresh with 10 cores, according to a leak on Twitter. The post Leak: 27-inch Apple iMac refresh with 10-core Intel CPU due for 2020?...

Our colleagues at Thomann are offering some insane deals on Sennheiser XSW 1-835 wireless systems. Read on for tech details and money saving offer links. The post Deal: Save 100 euros on Sennheiser XSW 1-835 wireless microphones! appeared first on gearnews.com.

Harley Benton has announced a hard-edged rock monster, the EX-84 Modern... this axe will take no prisoners! At a price point that caters for all, this guitar packs a punch. The post Harley Benton EX-84 Modern: Now with EMG pickups! appeared first on gearnews.com.

Don't miss out on these massive savings on ESP LTD instruments from Thomann. This mega deal includes the signature Nergal model, baritones, 6-string basses, and more! The post Check out this epic ESP LTD Mega Deal on Thomann appeared first on gearnews.com.

Zoom has unveiled the H8 portable recorder. With a touch screen interface and "apps" for various recording applications, the H8 brings a new workflow to the H series. The post Zoom introduces the H8 portable recorder with touch screen interface appeared first on...

New on Kickstarter is a template and overlay for the Novation LaunchControl XL designed to harness all the parameters of the U-He DIVA software synthesizer and place them at your fingertips. The post DIVA CTRL: control more than 130 parameters of U-He DIVA with a...

TYXIT aims to revolutionise the way you connect your instruments. Quick setups, and freedom from cables. Is this the beginning of a connectivity revolution? The post TYXIT T.ONE promises a wireless live sound revolution appeared first on gearnews.com.

The new Gretsch G2215-P90 Streamliner JR Jet Club is loaded with a great pickup combination of a BroadTron humbucker and a P90... and comes in at a very tasty price point. The post Gretsch G2215-P90 Streamliner JR Jet Club: A single-cut with P90 tones aplenty appeared...
10. 'Floop De Loop' – George Duke (1975)  Duke's 1975 release The Aura Will Prevail is an often overlooked, yet hugely innovative contribution to the then-evolving concept of jazz fusion. By the mid '70s, Duke had begun to discover his singing voice, and was dabbling...
Crafted with Smith's rigorous tour and studio schedule in mind, the updated USA Signature Adrian Smith San Dimas models feature a lightweight alder body and a bolt-on quartersawn maple neck, reinforced with a pair of graphite rods for ultimate neck stability. The SDM...
Paul Weller - On Sunset    The Modfather himself comes through will a late career gem in the form of On Sunset, the 15th solo album from the former The Jam frontman. Across a surprisingly groovy tracklist with heavy flourishes of disco, blue-eyed soul and yacht rock,...
Numbers ten to six were a real murderer's row of cult classics and genre defining mainstays, encompassing everything from analogue also-rans and calculator-esque digital offerings right through to hybrid 'tweeners and even a contemporary legend in the making.   In...

The new Marshall Emberton is a compact little Bluetooth speaker with 'True Stereophonic' sound and an IPX7 water resistant rating. Not only does it fit in your hand, it's ready for the elements. The post The Emberton is the smallest Marshall speaker to date! appeared...

The Prok Modular drum mobiles are a popular way to add versatile drum sounds to your Eurorack modular. Now you can have those same modules in VCV Rack along with 10 modules only available in software. The post Prok Modular brings their drum modules and more to VCV...

What mad reverb alchemy is this? Walrus Audio is offering a limited edition gold-coloured monster of a reverb pedal, combining its Slö and Fathom into one. The post Walrus Audio conjures up Gold Standard Slö and Fathom dual reverb pedal appeared first on gearnews.com.
Stay-at-home deals The best way to explain how to mix a pop song is to actually mix a pop song, from start to finish! Spanning five hours and 24 videos...https://www.soundonsound.com/news/mixing-pop-music-video-course-samplecrazecom

The Quilter Labs OverDrive 202 is a lightweight, solid-state amp head with two footswitchable channels and a whopping 200 watts, that will fit in your gig bag! The post The new OverDrive 202 solid-state amp from Quilter Labs will fit in your gig bag! appeared first on...

New ransomware that specifically targets Macs and musicians is going around. EvilQuest encrypts your files and forces you to pay ransom to regain access. Here's how to keep your system safe. The post MacOS ransomware EvilQuest found in pirated Ableton and Mixed In Key...

The new MG-300 Modelling Guitar Processor from NUX is packed with an insane amount of features, and could give other budget multi-FX units a run for their money. The post The new NUX MG-300 Modelling Guitar Processor comes jam-packed with features appeared first on...

The folks at IK Multimedia decided they want to sweeten your summer and are, for a limited time, giving away the AmpliTube Metal Collection absolutely free! The post Deal: IK Multimedia is giving away the AmpliTube Metal Collection for free! appeared first on...

Foxgear just introduced two new pedals, the multi-effects modulation XYZ Waves pedal and the Jeenie guitar interface. Both units maintain a 100% analogue signal path. The post Foxgear releases new XYZ Waves & Jeenie pedals – both with 100% analogue signal paths...
Stay-at-home deals New processor simulates the effect of high-frequency absorption in air.https://www.soundonsound.com/news/sound-particles-release-air-plug

Steinberg has got an awesome deal going on this month. If you buy Cubase Artist 10 by July 28, your license will automatically be converted to Cubase Pro 10.5 at no extra cost. Sweet! The post Deal: Buy Steinberg Cubase Artist at a discount and upgrade to Pro for free...

Pittsburgh Modular has finally let go of the old legendary Lifeforms SV-1 and moved into the new era of classy black design with the SV-1b in both Eurorack and Blackbox formats. The post Pittsburgh Modular revamps the Lifeforms SV-1 into the sublime SV-1b appeared...

This new 'Wildcard' limited edition is the first time Jackson has made a production model with 27 frets. Yes, 27 frets! This guitar goes up to 11 and smashes through the insanity barrier! The post Jackson's Pro Series Limited Edition Soloist SL27 EX is a 27 fret...

Roland's Zenology virtual instrument gets its first Model Expansion in the shape of the classic 1985 JX-8P polyphonic synthesizer and includes the editing functions of the PG-800 programmer. The post Roland releases JX-8P Model Expansion for Zenology appeared first on...
The signed Fender Jimi Hendrix Signature Stratocaster is up for raffle via Help A Mate, a service affiliated with Support Act that allows individuals to raise funds to support struggling musicians or industry professionals in Australia.   The guitar itself is valued...
Featuring representatives from Select Music, Oztix, Untitled Group, Macro Music, ALH Group and Electronic Music Conference, the Australian Live Music Business Council (ALMBC) describes itself as "a national music industry association led by Australian business owners...
1. Neumann V402 Dual Channel Microphone Preamp Neumann are expanding their audio empire even further with the launch of the V402, their first ever standalone microphone preamp. Boasting two channels with state-of-the-art transformerless microphone preamps and...
Today, we're turning back the clock to explore some of the finest music-related films of the era, as well as looking at some of their best moments and what makes them great. To keep things fair, we're going to omit all proper documentary films from consideration -...

This neon pink, sandblasted Charvel Pro-Mod San Dimas Style 1 HH FR E Ash just screams "Look at me!" - and with these specs it is definitely worth a look. The post Charvel adds sandblasted Neon Pink Pro-Mod San Dimas Style 1! appeared first on gearnews.com.

Jackson has just announced the cuttin' heads guitar that Steve Vai wielded during the duel in the 1986 classic film Crossroads. Time to play with the devil! The post Jackson release epic Steve Vai Crossroads guitar – Time to cut heads! appeared first on gearnews.com.

From "crystal clear" clean to full-on dirt, the EVH 5150III 15W LBX-S lunchbox amp head combines the best features of its predecessors, the LBX1 and LBX II. The post The new EVH 5150III 15W LBX-S combines the best features of its predecessors appeared first on...

A hugely popular soundtrack scoring competition fell into controversy when the internet didn't approve of the winner. Hans Zimmer has weighed in with some calming wisdom that we should all listen to. The post Hans Zimmer brings wisdom to Spitfire Audio Westworld...

The new Gretsch G6136T-RR Rich Robinson Signature Falcon signature model for the Black Crowes guitarist looks stunning in its Raven's Breast Blue livery and includes some premium accoutrements. The post Gretsch G6136T-RR Rich Robinson Signature Falcon: Not Hard To...

Henrik has played with Swedish progressive heavy metal band Evergrey for 20 years - and his new signature Charvel looks like it was at every one of those gigs! The post Charvel Henrik Danhage Signature: A heavy-relic shredder that takes no prisoners appeared first on...

A mean new rock machine from EVH: the limited edition Wolfgang Special Sassafras offers a new tonewood and finish option on what was already a great high-performance instrument. The post EVH Limited Edition Wolfgang Special Sassafras: A mean new rock machine! appeared...

With 413 Tape Saturator, audio developer Mia Laboratories presents an appealing new plug-in for warming up and compressing your mix buses and audio/instrument tracks. The post MIA 413 Tape Saturator: A new analog saturation and distortion toolkit appeared first on...

Developer Radu Varga has released an app that lets you map a MIDI controller to the UA Apollo Console software. That sounds like a very useful tool for Apollo owners, and there's even a free version! The post UA Midi Control: Control the Universal Audio Apollo Console...

By giving artists 100% of the revenue and staying transparent, BandLab Albums wants to be what Bandcamp and other rivals are, for better or worse, not... The post BandLab Albums: A utopia for musicians' digital publishing needs? appeared first on gearnews.com.

Japanese brand Caparison and As I Lay Dying's Nick Hipa just announced the new Angelus-NH signature guitar. This beast of an instrument comes loaded with top spec hardware and epic looks! The post Caparison and As I Lay Dying's Nick Hipa unleash new Angelus-NH...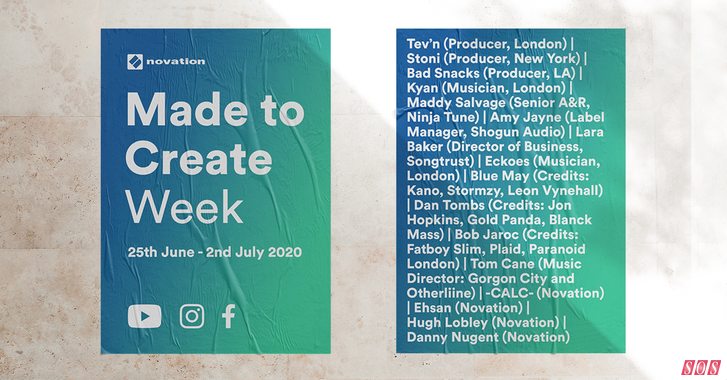 Stay-at-home deals Novation's Made To Create programme is a week-long series of free daily online events, spanning artist interviews, music business seminars, product demos and technology chats.https://www.soundonsound.com/news/made-create-novation-live-video-series

Summer is here, which means songwriting sessions in the sun! But if you don't already own an acoustic guitar, here are three amazing deals we've rounded up for you, and you won't believe the prices! The post Check out these sweet summer acoustic guitars deals on...
Despite the hard-hitting impact of COVID-19 on the local industry, the 16th annual Music Victoria Awards will go down this November alongside Melbourne Music Week, celebrating the achievements and contributions of the state's best bands, venues and personnel.    This...
10. Rob Allen Mouse Bass The only fretless model to get a mention on this list, the Rob Allen Mouse 30 is the perfect weapon for any jazz bassist looking to experiment with a short scale bass. A piezo pickup installed under the bridge lets you hone in on woody bebop...
'Meanstreak' - Blow Up Your Video, 1988   Most of us wouldn't immediately associate the word 'funk' with AC/DC, but when you hear the groove on this deep cut from the band's 1988 album Blow Up Your Video, there's simply nothing else that comes to mind. On...
Stay-at-home deals NI's latest Kontakt instrument samples a 1727 violin made by renowned vioin-maker Antonio Stradivari.https://www.soundonsound.com/news/native-instruments-release-stradivari-violin

The new Eligos and Juneau effects from Siren Pedals are based on the now legendary Boss HM-2 and Marshall BluesBreaker circuits, but with a few modern tweaks and unique graphics. The post Siren Pedals takes on the classic Boss HM-2 & BluesBreaker pedals appeared first...

Grab the German-made ENGL Alpha Drive and Custom Reverb pedals at a huge discount, at more than 50% off their normal price. It's a phenomenal pedal deal! The post DEAL: ENGL Custom Alpha Drive & Custom Reverb pedals over 50% off appeared first on gearnews.com.

Initial Audio Dynamic Delay is a stereo delay with an integrated ducker. This means that you no longer need an external compressor to accomplish the popular delay ducking effect. Sounds like a winner! The post Initial Audio Dynamic Delay: stereo delay with integrated...
'Highway To Hell' - AC/DC Of course, no list about Perth would be complete without a reference to WA patron saint Bon Scott. AC/DC's iconic track 'Highway To Hell', while seemingly penned about the band's misadventures as a touring rock band, also refers to the...
Slated to drop on Friday August 28, Whose Line Is It Anyway? pays tribute to Australia's favourite $5 note 'whale' trick that takes on a whole new meaning when paired with the name of the album.   Recorded during the height of COVID-19 earlier in the year, the album...
Akai MPC One   After the huge success of the MPC Live (and its recent follow-up, the Live 2), Akai went back to basics with the MPC One, and boy has it taken off. The combination of the classic boxy aesthetic of original units is only made better by the powerful OS of...

If you've been looking for super-saturated American high-gain amp tones in a mini head, the new JOYO BanTamP XL-Zombie II lunchbox-style amp has you covered. The post The new JOYO XL-Zombie II packs crushing American-style amp tones in a lunchbox format appeared first...

Dove Audio has found a bunch of old Korg NJM2069 VCF/VCA chips and fashioned them into a new 5U Moog module. The chip was used in synths like the Poly800, DW8000 and DSS1. The post Dove Audio NJM2069 VCF/VCA harnesses the sound of Korg chip from Poly800 appeared first...
Stay-at-home deals We round up some of the best software bargains and freebies to help get you through the quarantine.https://www.soundonsound.com/news/stay-home-deals

This week's best sample packs: a unique set of boutique strings, high-quality Caribbean drum and percussion instruments, horror-themed sound effects, and two classic Italian instruments from 60s! The post Best Sample Packs This Week: Boutique strings, Caribbean...
Courtney Barnett  Courtney Barnett continued her American takeover with a performance on Tiny Desk all the way back in 2014 with a trio of now-seminal cuts: 'Avant Gardener', 'History Eraser' and 'Depreston.' Her unique style of Aussie storytelling put American...
The news was confirmed today on Tool's official Instagram, with the band taking to social media to declare 'It doesn't get more official than this: Adam Jones Signature Guitars now in production!'.   Back in January, it was reported that the Gibson Custom Shop were...
Now, the band have turned in their excellent new album How To Survive A Funeral; a remarkable full-length effort with a reinvigorated lineup and fresh take on their classic sound. The record marked the first time Make Them Suffer worked with another producer, with the...
Today, we're taking a look at some of the instances in the past where big name hip-hop acts have sampled from songs originally written by Australian artists to explore just how deep of a culture crate-digging and sampling really is.    Beastie Boys - 'Rock Hard'...

What did you do during the lockdown? One amateur woodworker built an amazing semi-hollow guitar from scratch out of some old office shelves. Check out this incredible video, you won't regret it. The post Watch this amateur woodworker make an incredible guitar – out of...

Remember the Gibson Adam Jones Signature model from NAMM? The Silverburst Les Paul Custom has now entered production, per Tool's Instagram page. Will it ship by this summer? The post Gibson Signature Les Paul for Tool's Adam Jones enters production appeared first on...

Modelled after the classic Sennheiser VSM-201 vocoder as used by Kraftwerk, Herbie Hancock, Boney M and Battlestar Galactica the XILS  X-201 brings that immediately recognisable sound back to life. The post XILS X-201 Vocoder and vintage effects box appeared first on...

This week's roundup of the best free plug-ins brings us a filter with lots of rhythmic glitching and a FET-based saturator. Also, the wonderful Valhalla Space Modulator is now free for everyone! The post Best free plug-ins this week: TwoRuleFilter, FetDrive,...

The mystery unit glimpsed in the teaser video looked along the lines of a preamp or a monitor controller. Well, it turned out to be a dual-channel preamp! The post Neumann announces V402 dual-channel mic preamp appeared first on gearnews.com.

The Audiority Green Reaper GR9 is not one, but 12 TubeScreamer pedals in one plug-in - and with a great introductory price, this little green stompbox is well worth adding to your plugin collection. The post Audiority Green Reaper GR9: 12 TubeScreamer stompboxes in...

Those Squier Mini Jazzmaster HH models leaked earlier this year have now been officially released. Could these tiny offsets be the perfect travel guitar? The post Is the Squier Mini Jazzmaster HH the dinkiest offset ever? appeared first on gearnews.com.

W.A. Production has released Orchid, a versatile chorus plug-in. With four-way chorus processing and additional effects, Orchid goes beyond the scope of standard chorus effects. The post W.A. Production Orchid: four-way chorus on steroids for under 7 quid appeared...
Fender Japan unveils two new stunning deep blue models, with finishes based on the traditional Japanese art of 'indigo dyeing'. But will we ever see one outside of Japan? The post Fender Japan shows-off new Indigo Dye Stratocaster and Telecaster appeared first on...

The new Soldano SLO 30 Classic Head amp is a compact and manageable version of the company's legendary SLO 100 100-watt all tube, high-gain amp head from the '90s. The post The new Soldano SLO 30 Classic Head – a shrunken '90s classic? appeared first on...

The Typhon is a quirky combination of analog synthesis, sequencing and digital effects in a very cool collaboration between Dreadbox and Sinevibes. The post Dreadbox and Sinevibes Typhon is not just another monosynth appeared first on gearnews.com.

Behringer has posted a few photos of their modulation pin matrix for a forthcoming Synthi VCS3 style synthesizer. These are tool-made samples which are a milestone in the development process. The post Behringer pin matrix board for Synthi clone is coming along...
Stay-at-home deals: updated Tuesday 16th June The V402 is a two-channel mic, line and instrument preamp with some useful monitoring facilities.https://www.soundonsound.com/news/new-mic-preamp-neumann

After a bit of teasing on social media about a new collab, a leak has confirmed an exciting new synth called Typhon - Dreadbox brings the synth and Sinevibes brings the effects! The post Leak! Dreadbox Typhon: analog monosynth with Sinevibes DSP effects appeared first...

Waves moves away from touch-only control for the eMotion LV1 live mixing software, launching the Waves Fit Controller, a hands-on, motorised fader mix surface. The post Waves Fit Controller: hands-on control for eMotion LV1 live software mixer appeared first on...

The Heritage Audio HA-81A hybrid channel strip combines a discrete, Class-A 73-style preamp with an 81-style 4-band equalizer. The best of both worlds? The post Heritage Audio HA-81A: Neve 73-style preamp and 81-style EQ in one appeared first on gearnews.com.

Heritage Audio has announced the Baby RAM passive monitor controller. It's designed to deliver the same sound quality as its bigger siblings in a compact, all-passive package. The post Heritage Audio announces the Baby RAM passive monitor controller appeared first on...

This week's roundup of sample packs includes ethereal ambiences for Omnisphere 2, a robust pack of Latin percussion instruments for use with EZDrummer 2 and Superior Drummer 3, a collection of free saxophones for use with HALion applications, and a fantastic grand...

Ever needed to mix, patch and route analogue and Dante audio in a single hardware box? Then the Dynacord MXE5 could be the box for you! We take a look at the first of Dynacord's MXE matrix series. The post Dynacord launches MXE5 Matrix Mix Engine appeared first on...

It looks as though a one-off Gibson Slash Goldtop Les Paul has escaped into the wild! Lucky for us, The Trogly's Guitar Show was able to bag it and document the guitar in full. The post Did Gibson leak a Slash Goldtop Les Paul by accident? appeared first on...

Output has released Thermal. With a multi-band distortion stage and the modulation engine from the Output Portal granular effect, Thermal is all about modulated distortion and saturation. The post Output Thermal: Multi-band distortion that'll make your head spin...
Stay-at-home deals: updated Tuesday 16th June The new CORE 4097 is based around DPA's acclaimed 4000-series electret capsule.https://www.soundonsound.com/news/miniature-shotgun-microphone-dpa
The new Ditto+ sees TC Electronic retain the simplicity and functionality of the original unit, while adding a few modern tweaks and giving it a bit of a makeover. There's now a high resolution colour screen and two extra navigation buttons, which helps you to keep...
A Boss DS-1 Distortion pedal, which has evidently been "used" by Kurt Cobain, sold at famous auction house Julien's for a staggering USD $9,000 - or $13k in Aussie dollary-doos.   The busted Boss pedal was supposedly played onstage by Kurt Cobain in the early '90s,...
Silverchair - 'Abuse Me' (Live on Letterman) This Newcastle trio are still one of Australia's top musical exports, and this performance on Letterman 22 years ago proves why. Fresh out of high school, Silverchair provided an angst that felt more authentic than others...
HAIM - Women In Music Pt. III   For their first full-length full release since 2017's Something To Tell You, HAIM have delivered an absolute doozy. Women In Music Pt. III might be the Californian sisters' best work to date, with their trademark vocal harmonies and...
Today, we're going to take a look at some of the guitar heroes who might have flown under the radar in the last decade, but still demonstrated immense technical prowess and pushed the instrument in the right direction. Let's tuck in!   Blake Mills  A true maverick of...

TC Electronic upgrades its DITTO+ looper pedal with 99 presets, 60 minutes loop time and a screen so that you can see when the hell is going on! If the price is right, this thing should be popular. The post TC Electronic DITTO+ now with 99 presets appeared first on...

JAM pedals teamed up with 15 different artists for 150 limited, signed gold pedals. Proceeds from the sales will go towards helping COVID-19 affected music-industry professionals. The post JAM Pedals announces limited signed, gold stompboxes for COVID-19 relief...
Get notified 
About all the latest Music and Audio gear news!